KERALA TOURISM NEWSLETTER
ISSUE: 277
SEPTEMBER 2016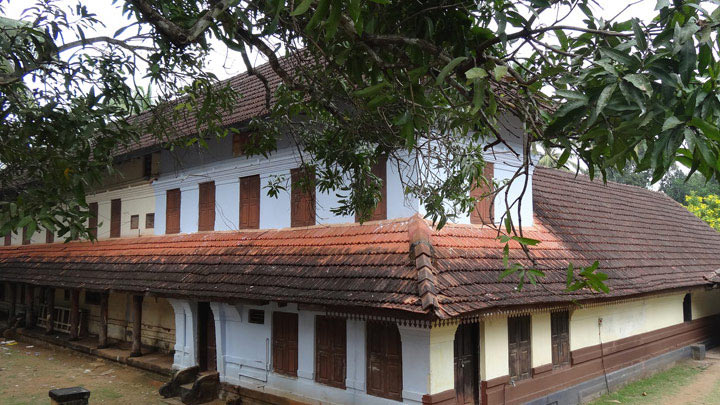 Vellinezhi: A Rich Palette of Art Forms
A tuft of land blushing with a rich tapestry of art forms and artistes and blessed with a stunning cultural history. The air here is always charged with a luxurious cultural aura. Although celebrated for its legacy in Kathakali, this land is unique for the sheer number of art forms that thrive here. And this is reason enough to visit Vellinezhi- a hamlet on the banks of Kunthipuzha in Palakkad.
Kutiyattam, Ottanthullal, Krishnanattom, Tholpavakoothu, and Pulluvanpattu, are some of the 46 art forms (including ritual art forms) which find its presence in this tiny hamlet. With an aim to preserve these art forms, Vellinezhi was declared a Kalagramam, in the year 2012.
Oozing old world charm and standing tall with its impressive cultural contribution, here is the 300-year-old Olappamanna Mana. A visit to this ettukettu (traditional Kerala home) is like walking into a spellbinding chapter of history. This mana which was the centre of Kathakali studies in the early 20th Century saw the birth of Kalluvazhi chitta (chitta meaning performing principles) of Kathakali. A part of the mana is let out as a home stay which sees travellers arriving to watch Kathakali and Kalampattu which are arranged on prior request.
'Thaadiyarangu', an annual cultural event where more than 80 Kathakali artists enact scenes instead of entire stories in Kathakali is a major attraction here that awaits travellers. At the Naanu Nair Smaaraka Kalakendram in Vellinezhi, art forms like Kathakali will be staged on prior request. The village also has Kathakali training centres.
This village is also famed for its handmade 'Adakkaputhur' metal mirror which enjoys a prime status with its unique craftsmanship.
This enticing land with its vast expanse of paddy fields has art woven into it and every effort is taken by the villagers to preserve the art forms which are handed over through generations for posterity.
At Vellinezhi, embark on a cultural pilgrimage. It will be the ultimate reboot for your soul.