KERALA TOURISM NEWSLETTER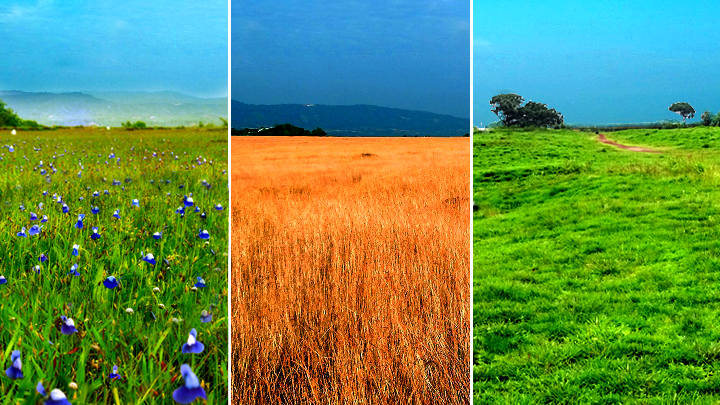 Madayipara- A Riot of Colours
Ever been to a land which bursts into a riot of colours as the season changes? 
A glorious landscape which you can visit round the year, this pretty terrain evokes a fresh experience on every visit. The Spring drapes her in a bluish hue, the Monsoon bathes her in a stunning greenish hue while Autumn leaves her rejoicing in blazing tones of red. Welcome to Madayipara, a rare landscape that breaks into a carnival of sorts as each season passes. 
 A laterite hill which stretches to over 700 acres, Madayipara is located at Pazhayangadi in Kannur District. This flat-topped hill which is noted for its ecological, historic and religious significance is a perfect place to explore on foot.
Spring has the hillock carpeted lavishly in a blanket of blue flowers called Kakkappoovu and wears an ethereal look. The Monsoon has this dreamy stretch decked up in a startling shade of green. Come Autumn and this rocky terrain gets all draped in grass that turns into a fiery golden colour. This sublime stretch in flames with myriad shades as light changes and transforms into a breathtakingly picture perfect canvas.
Abundant with plant and animal species, Madayipara is a biodiversity vault. With a luxuriant collection of 300 flowering plants, around 30 varieties of grass, several insect-eating plant species, amphibians and reptiles, about a hundred species of birds and around 150 species of butterflies this hilly stretch is a haven for nature enthusiasts. One among the biggest butterflies in the world, the Atlas butterfly can also be seen here.
A trip to Madayipara gives you a peek into the yesteryears as well. History has it that the Madayipara was the administrative center of the Ezhimala kings. Once here, you will stumble upon the past as you marvel at the remains of the Pazhi Kotta (kotta meaning fort in Malayalam) and its four watchtowers.
This pristine stretch of Madayipara encompasses a ravishing spot in the form of a pond, the contours of which resemble a handheld mirror. This pond, also called 'joothakkulam' (jew tank), has a religious significance as well as it has links to ancient Jewish settlers. The hillock is also the venue for the conduct of the pooram festival of Madayi Kavu (Kavu meaning scared grove) and is yet another attraction. The Vadukunda Siva Temple and the adjoining lake is yet another attraction.
Madayipara is one of the destinations in Kerala where you can go all year round. Looking at her is like peering through a kaleidoscope. 
Just set out on foot, explore the many trails and discover the many marvels of Madayipara.
How to reach
Madayipara is situated off NH 66 at Pazhyangadi and is easily accessible from Kannur bus station, about 26 km. 
The nearest railway stations are Pazhayangadi, about 2 km and  Kannur, about 25 km. The nearest airport is Calicut International Airport, about 140 km