KERALA TOURISM NEWSLETTER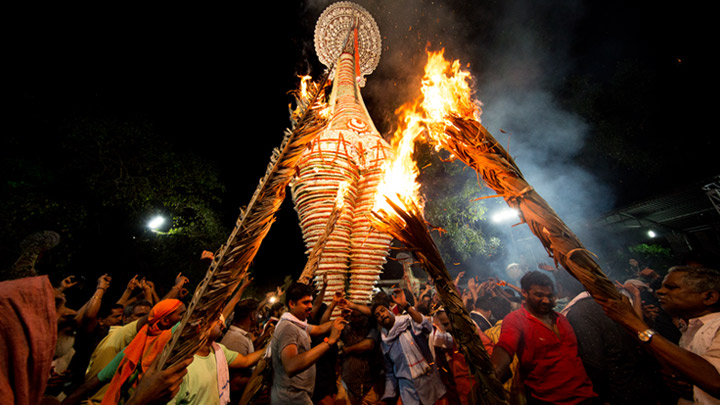 Neelamperoor Patayani - A celebration of culture and mythology
In the deep reaches of Alappuzha, a sleepy little hamlet comes alive in all its majestic grandeur and bursts in vibrant colours as it celebrates a grand festival which is nothing short of a magical spectacle-the Neelamperoor Patayani. 

Held at the Palli Bhagavathi Temple in Neelamperoor, which is believed to be around 1700 years old, the Patayani festival falls in the Malayalam month of Chingam (August/September) and involves the celebration of culture and mythology. Neelamperoor located in Alappuzha is just 20 kms away from the scenic Kumarakom which is famed for its backwater tourism. 

One of the major highlights of the festival is the Kettukazhcha which involves the parading of exceptionally decorated huge effigies. The festivities kickstart as night falls and this adds to the drama. The grounds of the temple are set afire and get draped in a rare festive splendour. 
The Patayani celebrations begin right after the Thiruvonam asterism, that is on the Avittam day, and continues till the Pooram asterism which marks the birthday of the Bhagavathy. Travellers arrive from far and near to witness the grand celebrations. It is also the much-awaited moment for the villagers and the whole of the village is in attendance to watch the mesmerising spectacle. 

A highly organic festival where all the effigies are decorated with organic materials such as Ixora flowers, lotus leaves and the stem of plantain, Neelamperoor Patayani is believed to have a strong connection with the Buddhist culture. Huge effigies of mythical characters are taken out to parade before the deity. These imposing figurines of mythological characters such as Bhima, Ravana and Yakshi crafted in vivid and mesmerising colours are carried by devotees to the accompaniment of soul stirring percussion music and they dance to the beats of the music in an attempt to propitiate the deity. The arrival of the effigies is punctuated by the breathtaking display of fireworks which renders a phenomenal charm to the festival. 

The face of these effigies is decorated brilliantly and is an artwork in itself. It features exceptional craft and is painted with a brilliance that reflects the artistic acumen of the people. 

A highlight of Neelamperoor Patayani is the procession of the effigies of swans. Ornately decorated swans of the sizes of one or two feet are offered by devotees to the deities and as many as 100 such swans dot the temple precincts. But it is the arrival of the huge swans that the devotees wait for. These swans can be as big as 20 feet and their arrival is greeted with much fanfare. The festivities reach a crescendo as these gigantic swans are brought before the deity. 

Devotees revel in the magic struck up by this unique festival which drapes the whole region in an ethereal aura and the celebrations continue well into the wee hours of the morning the next day.