KERALA TOURISM NEWSLETTER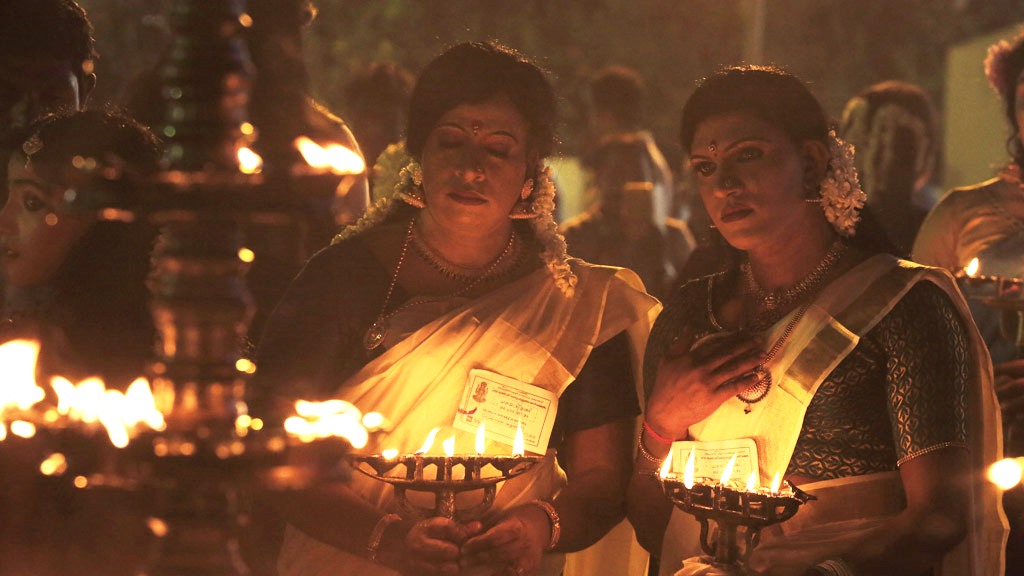 Kottankulangara Chamayavilakku – A Carnival of Lights
Every year as the sunset embraces Kottankulangara on 10th and 11th of the Malayalam month of Meenam (second half of March), the temple awakens to wrap herself in hues of festivity to hie you away to a dreamy world that bursts with lights, lamps and music. 

Akin to every temple festival, Chamayavilakku of Sree Kottankulangara Devi Temple in Kollam also has processions with beautiful ladies holding lamps in their hands. But here if you take a closer look, you can see that it is not ladies who bear the lamps but men!

Men from across the State doll up as damsels wearing sarees, shimmering trinkets, jasmine garlands and elaborate make-up take part in this unique ritual. Disregarding caste, creed, age and gender stereotypes, men dressed as women hold the divine Chamayavilakku (traditional lamp) and walk around the temple as a symbol of their devotion for the presiding deity and to get their wishes fulfilled.

The famed Chamayavilakku ritual that starts in the evening and continues till dawn takes place on the final two days of the 19-day long festival. Giant caparisoned tusker carrying the Thidambu (idol of deity) can be seen throughout the night.

The festival has also turned out to be the largest congregation of the transgender community in Kerala as it offers them a space to celebrate their identity. 

Walking into this sea of gorgeous "ladies" is truly an amazing experience that will stay in your heart long after you leave the place. Myriad events such as classical concerts, dynamic percussions, glittering illuminations and a display of colorful umbrellas and floats add to the visual extravaganza. Like most of the temple festivals of Kerala, in Kottankulangara too the skies flaunt an unparalleled spectacle of fireworks.
 
Kuruthola Panthal (structure made of tender coconut leaves), an exclusive festival scene from Kottankulangara is reminiscent of tradition and culture. This is a model of a temple made of kuruthola, plantain, and arecanut where the deity resides during the festival days. 

Even the mighty pen of poets will find it hard to capture the full spirit of the vigorous steps of the Velichappadu (oracle) and the powerful spirit of the temple that is covered in the sacred fragrance of the festival night. 
In 2020, the Chamayavilakku festival will be celebrated from 23 to 24 March. 

Getting there: 
Nearest railway station: Kollam, about 13 km.
Nearest airport: Trivandrum International Airport, about 71 km from Kollam town.