KERALA TOURISM NEWSLETTER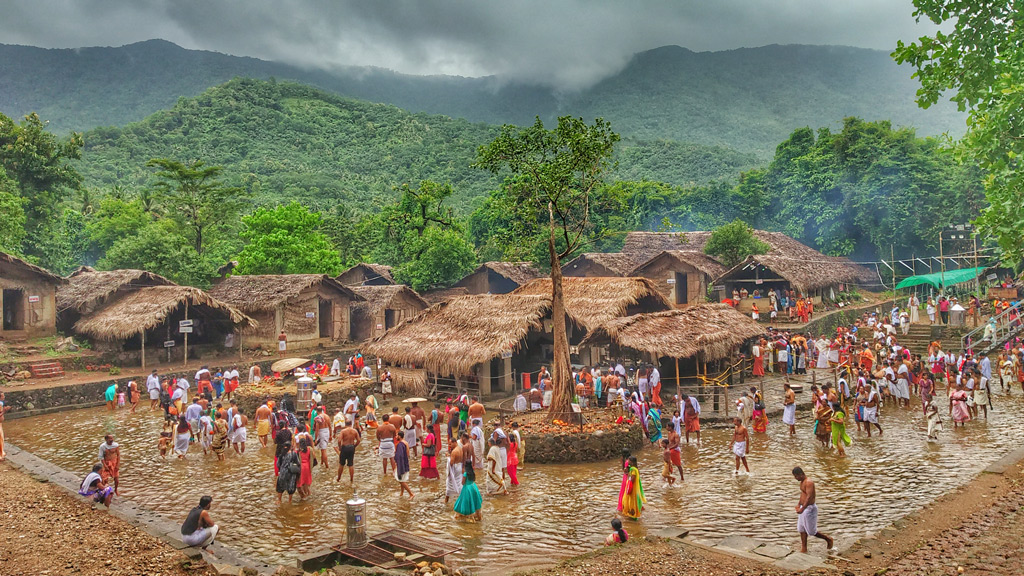 Kottiyoor Vaishaka Maholsavam - A Festival of Nature
In the dark dense forests of Kottiyoor, during the Monsoon showers, a magnificent festival where Mother Nature unites with ritual rites takes place - the Kottiyoor Vaisakha Maholsavam.

On the foothills of the Western Ghats in the eastern border of Kannur district situates the serene place, Kottiyoor, on the banks of the holy River Baveli. 

With hearts brimming with spirituality and minds lit with bliss thousands flock to the Kottiyoor Temple for the Vaisakha Maholsavam celebrations that last an entire month. The festival is hosted by two temples, Akkara Kottiyoor and Ikkara Kottiyoor and the venue is the Akkara Kottiyoor Temple which opens only during festival days annually (Chothi asterism of the Malayalam month of Edavam to the Chithira asterism of the Malayalam month of Midhunam). The dates normally fall between May-June.  

Since the festival occurs in the lap of a picturesque forest patch during the Monsoon season when the mighty Baveli is flowing in full glory, the Vaisakha festival is indeed a 'Festival of Nature'. 

Each day of the festival is marked by vibrant distinctive rituals that see the participation of people from different communities such as tribals, Brahmins etc, owning exclusive ritual titles and duties to make it an unrivalled festival of the State. The festival starts with the ritual Neyyattam (offering of ghee) and concludes with the Thrikkalashattu (concluding ritual). The bringing of a sword from Muthirerikavu in Wayanad initiates the festival. Cloaked in mystery, the rituals of Kottiyoor is an amalgamation of Tantric and Vedic science. 

Here, the presiding deity is a self-created idol (Swayamboo) of a fierce form of Lord Shiva who impeded the  Yagam (offering) of King Daksha with his holy spirits (Bhoothaganangal) hearing the news of his wife's death.  Legend also pictures that the shrine is blessed with the presence of the Holy Trinity and the Mother Goddess. The temple which is devoid of formal structure and the deity is placed on a platform called 'manithara', which is made of river stones. 

The rituals like Elaneer Vayppu never fail to captivate the hearts of each and every devotee. During this ritual, devotees submit thousands of tender coconuts to the temple and the priest pours the collected coconut water onto the idol in a ritual known as 'Elaneeraattam'.

Take home with you the elegantly hanging white flowers called "Odapoo" that adorns the way to the shrine. These artificial flowers made of Bamboo represent the beard of the decapitated King Daksha.  

Step into this mythical land where nature, divinity, mythology and the age-old traditions and cultures of God's Own Country unite harmoniously to bestow one with a splendorous visual and spiritual experience. 
Next year the festival will be held from 17th May to 13th June 2019.