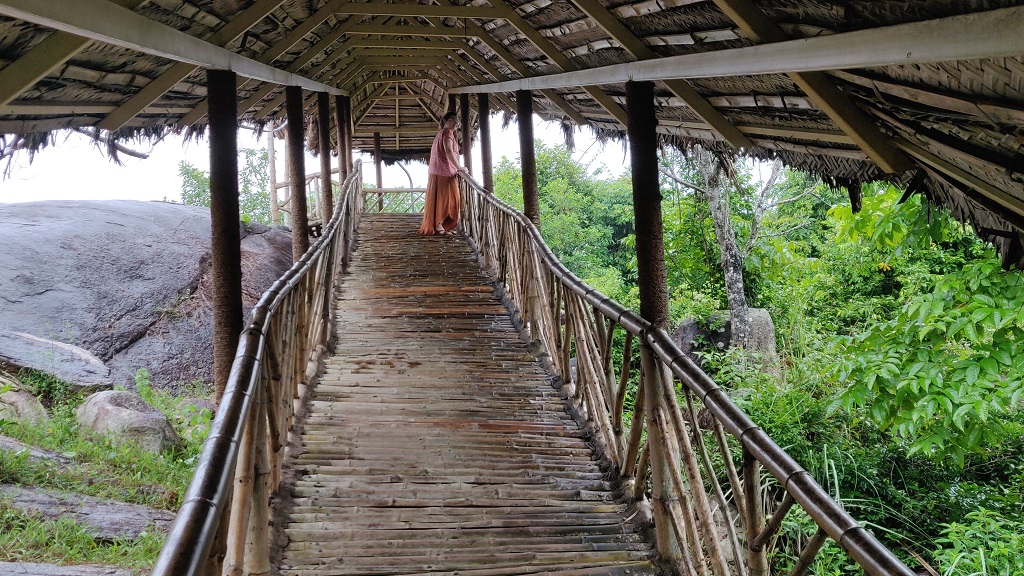 Madavoorpara - A Place with a Personality!
Away from the hustle-bustle of the city, in a tiny sleepy hamlet, experience Thiruvananthapuram's ancient natural attraction, Madavoorpara, in an all-new way! 

A lesser-known pristine destination situated 300 feet above sea level, Madavoorpara is a favourite with pilgrims and tourists. The place is noted for its cave temple and Bamboo Bridge.
History sleeps in the rock-cut Shiva Temple here that dates back to the 9th Century CE. The rock shrine currently under the protection of the Department of Archaeology has a pillar with inscriptions in Vattezhuthu, the ancient Malayalam script. The temple has attracted the attention of researchers and culture enthusiasts with its archaeological and historical significance. 

Walk up to the hill through the Bamboo Bridge to spend some time in a serene and secluded space. The 100 m long Bamboo Bridge is a sight in itself. Besides the bridge, the bamboo huts atop the rock that bestows you with a panoramic view of the lush green surroundings stand apart as the main attraction of the place.  

 A park that awaits children with its swings and slides is yet another added attraction for the families.  Atop this rugged hill, near a leafless white branched tree is the Ganga Theertham, an evergreen sacred pond. 
 
This rocky spot will soon have an amphitheatre, floating cottages, water fountain, cafeteria, amenity centre and so forth in order to develop it into one of the major tourist attractions of the capital city. 

While zipping across, never forget to lend your ears to the tunes of the birds. This tranquil beauty will definitely offer you an escape from the hum-drum of routine mundane life. 

Let the wind make your hair dance. Let it cool your mind and refresh your soul as you sit far above all the pollution and uproar of the city spread out below you.  
Getting there:
Nearest Airport: Trivandrum International Airport, via NH 66 and Kazhakoottam - Kilimanoor Rd, about 20 km
Nearest Railway Station: Thiruvananthapuram Central, via Sreekariyam - Pothencode Rd, about 17 km