KERALA TOURISM NEWSLETTER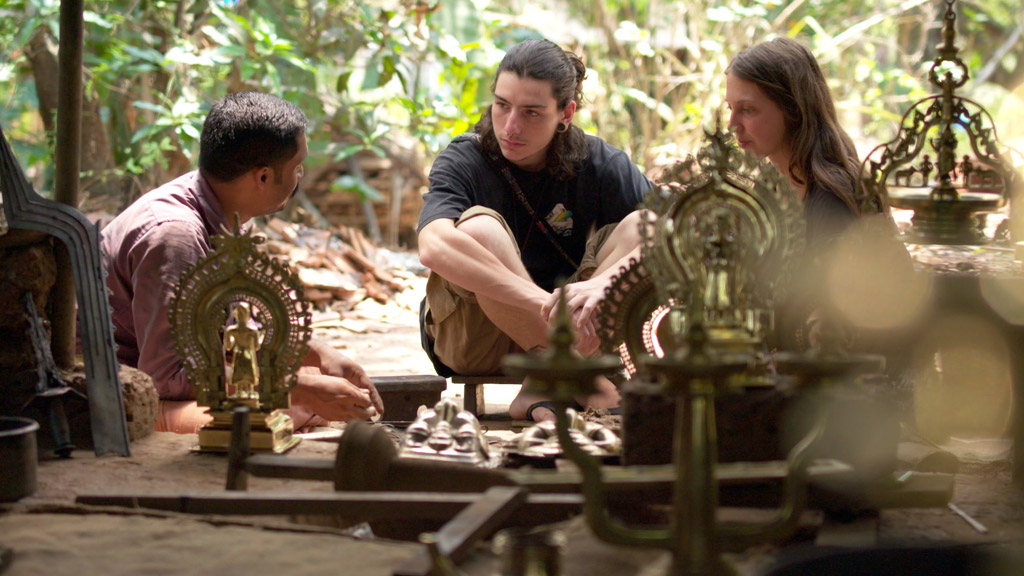 Native Experiences - To know the Soul of Kerala
Venture into the villages of God's Own Country and experience a medley of incredible artforms and artists. Let's delve into its rich tapestry of cultures and picturesque beauty. 

How about trying your luck at the traditional bow and arrow fishing or learning some tricks of making the golden fibre, coir? 

Go for an unforgettable journey with the Responsible Tourism Mission of Kerala and take back with you memories packed with fun, excitement and bliss. RT Mission offers several Village Life Experience packages in which a smorgasbord of Native Experiences ranging from trying your hand at the native cuisine to the electrifying steps of the martial arts, Kalaripayattu. 

Set out on a boat journey through the tranquil backwaters or join a blacksmith to explore the methods involved in making weapons and tools or get your hands dirty by taking part in clay pot making with the skilled artists of Kerala. Get a chance to experience a unique intersection of heritage, tradition and modern ways of livelihood. 

In Kerala, mainly 3 types of fishing are practiced -net fishing, Chinese net fishing and bow and arrow fishing. These interesting methods are plenty impressive on their own. But here, the gem is the majestic Chinese fishing nets that deliver you a spellbinding experience. Besides these, RT will teach you the technique of extruding lime-shell and crab and prawn catching. Never leave Kerala without trying these. 

All eyes arriving Kerala usually strikes at the long swaying coconut trees. Invest yourself in the beauty of weaving coconut leaves and learn some tips and tricks to climb a coconut tree through the RT Mission packages.  

The skilled artisans of Kerala share their experiences and knowledge about traditional crafts like bamboo making, screw-pine weaving and coir making. The village folks of Kerala are mostly engaged in these types of traditional activities for their livelihood. Handicraft making is also a popular source of income in villages. Watching these exciting indigenous arts up close is certainly a delightful experience. 

Handloom industry of Kerala is quite famous among the travellers with its uniqueness and elegance. Through the RT Mission one can watch the steps involved in the making of traditional set and mundu or the set saree.  

A growing trend of livelihood in Kerala is rubber tapping. With RT, you can engage yourself in rubber tapping as well.

Ever tasted the local brew of Kerala? If not, then you should go for it soon itself! The Village Life Experience of RT Mission will give you a chance to experience it.
Spend some time with the cattle, rabbits and goats in the farm and learn how villagers use these animals for their livelihood. All animal lovers, this is your weekend gateway to happiness. 

As you walk into the villages of Kerala, the most you see is the lush paddy fields and massive agricultural lands bursting with fruits, and vegetables. A stroll through these green carpeted paddy fields and plantations is one that you should never give a miss while in Kerala. Get ready to merge with the green with the RT Mission. 
The Bell Metal Heritage Village of Kunhimangalam with its exquisite art of bell metal making and expert artisans will surely surprise you. Here, skilled artisans make lamps, temple bells and different types of cooking vessels, like the magnificent 'Varpu', tumblers for drinking etc. with a hard alloy called bell metal. 

Apart from this, the RT Mission will take you to the bee-hive farms as well. Never miss the chance to taste the pure honey right from the hive. 

Besides all these natural and traditional experiences, Kerala will let you watch its incredible artforms like Theyyam and Theyyattu. The vibrance of these artforms will linger in your heart long after you leave this paradise. 

Let this trip be an experience worth remembering!