KERALA TOURISM NEWSLETTER
ISSUE: 301
SEPTEMBER 2018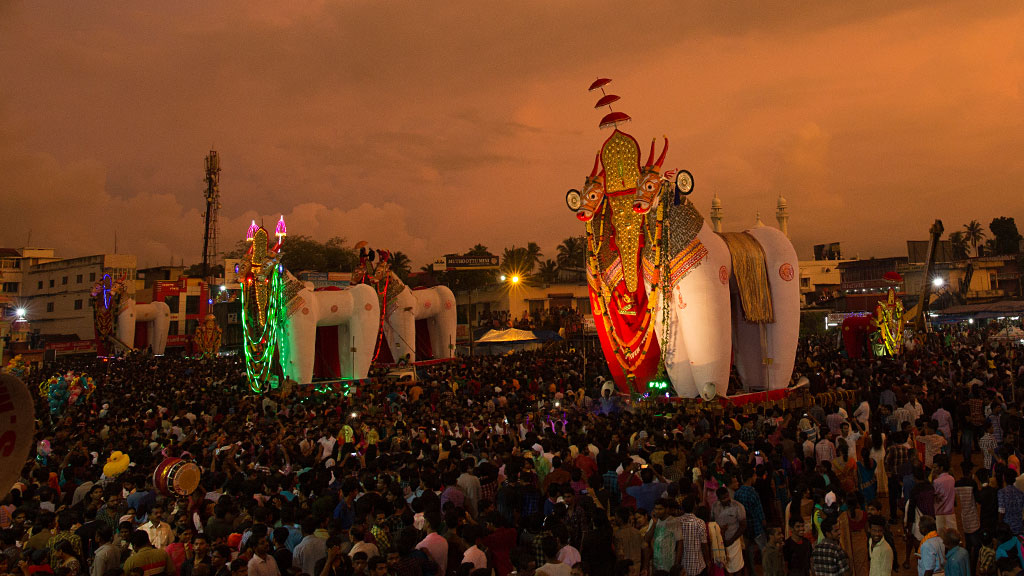 Ochira Kalakettu – A Spectacle to Behold
Ochira Parabrahma Temple popularly known as "Dakshina Kashi" awaits with the most spectacular festival you have ever heard of, the Ochira Kalakettu. Famed for its unique rituals and rites the ancient Temple follows non-idol worship. The ultimate power of nature is revered in this temple dedicated to Parabrahma, the Universal Consciousness. An array of festivals attracts people in large numbers to this holy shrine. The most popular among them is the Ochira Kalakettu, celebrated on the 28th day of the Onam festivities (September 21, 2018).
With the advancement of the harvest festival of Kerala, Onam, the Parabrahma Temple of Ochira soon transforms into a land of festivities showcasing gigantic effigies of Lord Shiva's vehicle 'Nandi -the bull' in pairs popularly known as Kettu Kaalakal. The unique festival billed as one of the biggest events in the region with deftly festooned effigies in white and red hues is truly a spectacle to behold.
During the festival people representing the 52 karas (land sub- divisions) under the 'Onattukara' area bring these huge effigies to the temple premises in a procession with the accompaniment of rhythmic drums and music. These decorated bulls that adorn the temple premises are in fact a ritualistic offering by the devotees to their beloved Lord in the form of a magnificent visual display called Kettukazhcha.
Thousands throng the place to watch this visual extravaganza rooted in history, legends and inspiring sagas of religious harmony. Soul- stirring drum music adds to the ethereal charm and creates a bonhomie atmosphere all-around.
The pageantry of gigantic, colourful temple cars bearing equally huge effigies of bullock is not only a celebration but also a mark of unflinching faith, devotion and spiritual harmony for the people of Kerala.
Ochira Kalakettu is a big display of culture and festivity. Come enjoy!