KERALA TOURISM NEWSLETTER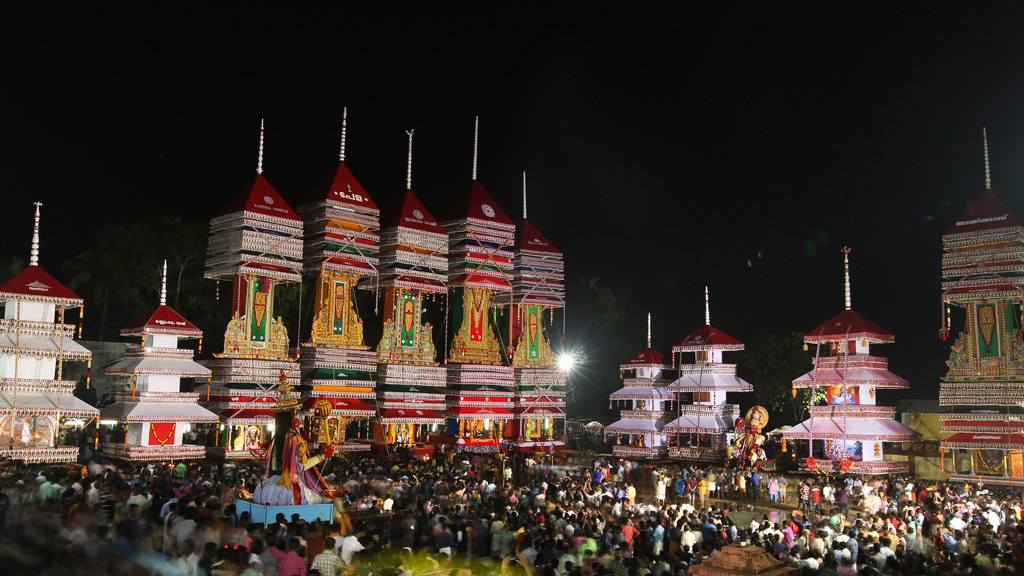 Chettikulanagara Bharani – A Magical Spectacle
As the Chettikulanagara Bhagavathy Temple near Mavelikkara in Alappuzha district wakes up to its annual festival, myriad rituals come to life, spinning a divine aura around it and sending every nook and corner of the area into ecstasy.
During the Malayalam month of Kumbham (February-March) every year, this sacred shrine stands witness to celebrations that reflect the great heritage, tradition and cultural opulence of God's Own Country. Nothing short of a magical spectacle, the Bharani Festival of the Chettikulanagara Bhagavathy Temple makes this sleepy hamlet in Alappuzha burst with glee and piety.
One of the prime attractions of the festival is Kettukazhcha which involves the parading of elaborately festooned giant effigies such as kuthira (horse) and theru (chariots).
It also offers a much-awaited opportunity for the villagers and the 13 karas (regions), popularly known as Onattukara, to compete with one another in organising the rituals and festivities. The village folk of each kara carry their effigies to the temple in a grand procession, and is invariably followed by a massive cheering crowd. Along with this, mammoth idols of Bhima, Hanuman and Panchali (characters from the Ramayana) are also drawn to the temple in a procession, bestowing you with a sight to behold.
This 1200-year-old temple astonishes you with its exceptionally stupendous ritual called Kuthiyottam, organised as part of its annual festival. Boys, aged between 8 and 12, perform the dancing steps of Kuthiyottam to the accompaniment of songs. Many conduct Kuthiyottams in their houses as an offering to the deity during the festival period.
For the Onattukara folks, Kumbha bharani is an occasion for savouring mouth-watering delicacies as well. Kuthiramoottil Kanji (porridge prepared at the site of the kettukazhchas), Konjum Manga (a dish made of prawns and raw mango) and Astram are the festival specials.