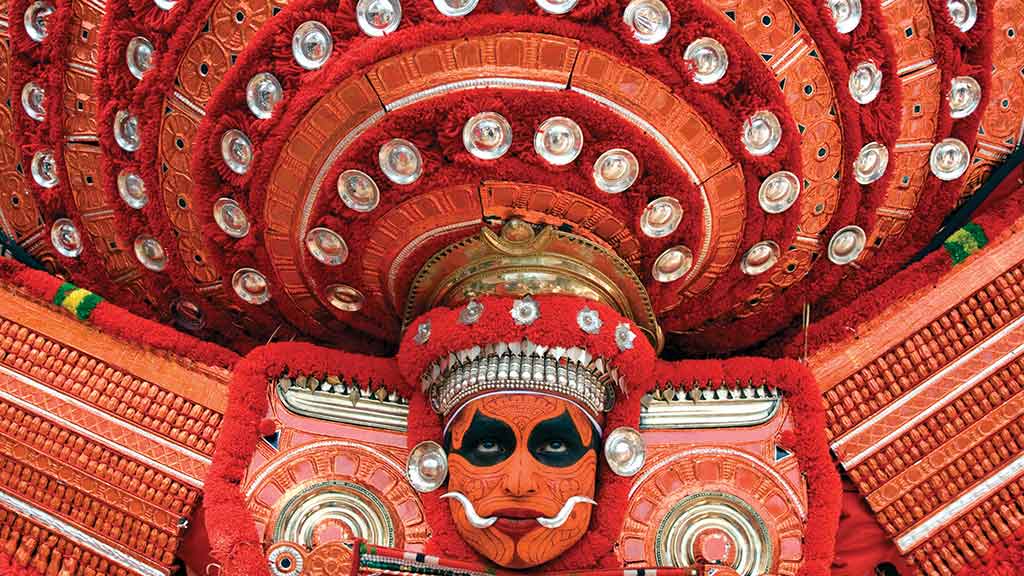 Perumkaliyattam Mahotsavam
In December this year, the little Kanhiradukkam village in Kasaragod district will bear witness to the rhythmic steps and hypnotic chants of a century's magico-religious art that is conducted once every 717 years.
Perunkaliyattam Maholsavam is a temple festival of Kalliot Devi Temple, which is being conducted after seven hundred seventeen years. The festival starts on 23 December 2019 will last the whole month with a list of events that blend tradition and religious rituals from Malabar. The main attraction is the Theyyam – a popular ritual dance form of worship. Decorated with heavy face-painting, headgear and loud costumes, the dancers are considered as embodiments of the deity itself. The dance is generally performed after sunset under the light of fire-torches to the accompaniment of drums, folk musical instruments and ritual songs. The blend of bright colours and elaborate make-up and energetic steps that are in sync with the primal rhythm of drums are sure to offer an overwhelming spectacle for the audience.
Perumkaliyattam Mahotsavam is the most awaited festival of Malabar. The whole region is expected to come together to celebrate this unique and flamboyant festivity of tradition and art. A series of vibrant and exclusive rituals will be conducted as part of the festivities such as divine music, grand performances of Theyyam forms like Vishnumoorthi, Gulikan, Pottan, Rakthachamundi, etc.
As part of the festival, Perumkaliyattam Kalamela, different artforms, cultural programmes, exhibitions, symposium, etc. will also be conducted. It will start on 1 December and last for a month.
Perumkaliyattam Mahotsavam is a beautiful blend of art, rituals, traditions, heritage, music and the ancient culture of God's Own Country. With elaborate gears, intense actions and spontaneous movements, Theyyam performances of Perumkaliyattam Mahotsavam seem to create a spiritual aura.
This feast of colours, sights and sounds is truly a once in a lifetime experience!
Try not to miss it! 
How to reach 
Kanhangad is the nearest railway station to reach Kalliot Devi Temple. Kannur International Airport is about 99 km away.