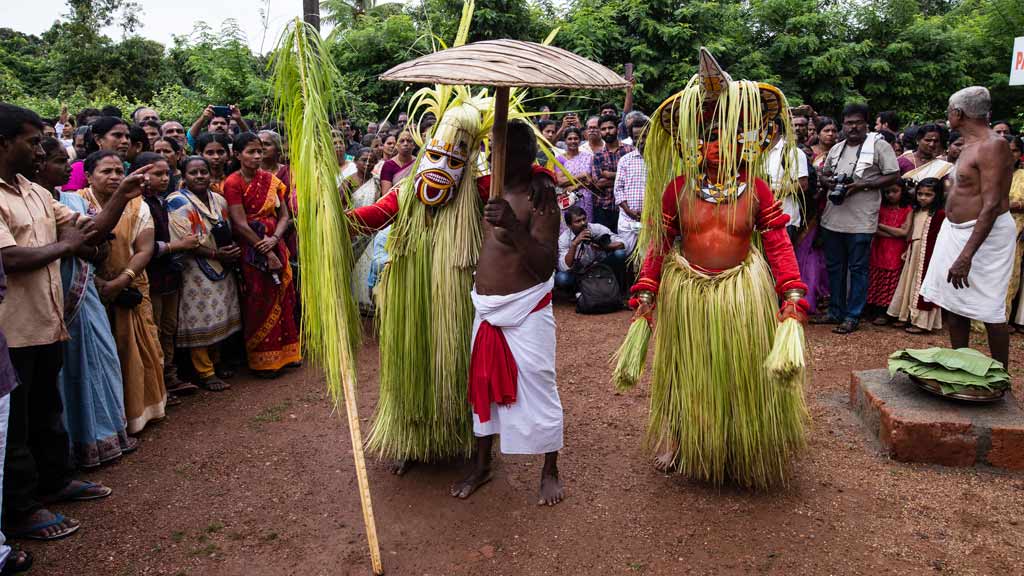 Maaritheyyam 
Far away from the madding crowd, in the sleepy hamlets of Kerala, during particular seasons you can see multifaceted gods dancing ferociously in and around sacred groves. They roar, they dance, and they make you marvel at the age-old myths and legends of the land! 

Maaritheyyam is one such theyyam (literally, God) form where pantheistic deities are invoked into the body of the performing man, who is always from a Pulaya community. This ritual art form is popular in and around Madayikkavu in Kannur. Every year the Maaritheyyam starts the journey from a place near Madayikkavu on the 16th day of the Malayalam month of Karkkidakam (July-August). 

Popularly known as Karkkidaka Theyyam or Maariyattam, the artistes adopt a unique form of costume and makeup. Dressed up in Kuruthola (tender palm leaves), their faces are painted in red and black, and sometimes covered with a long mask. Another unique feature of their costume is their huge, specially- made headgear. The main types of performances include marikkaliyan, maamayakkaliyan, maarikalichi, maamayakalichi, maarikkuliyan, maamaayakkuliyan. 

The word "Maari" in Malayalam means "suffering". Karkkidakam also is known as "panja maasam," a month of poverty. The Maaritheyyam is performed in this month of the year so as to ward off the sorrow and sufferings of the season of torrential downpours and to welcome Chingam, the next month that ushers in prosperity and happiness. Thus Maaritheyyams are welcomed with great respect and reverence. The theyyam performers go from house to house, dancing and singing aloud in a specific rhythmic pattern to the accompaniment of musical instruments such as thudi (small drum) and chengila (gong). 

These gorgeous carriers of faith and devotion are a true delight to watch and experience. The next time you are in Kerala soak, yourself in this devotional and spectacular extravaganza!