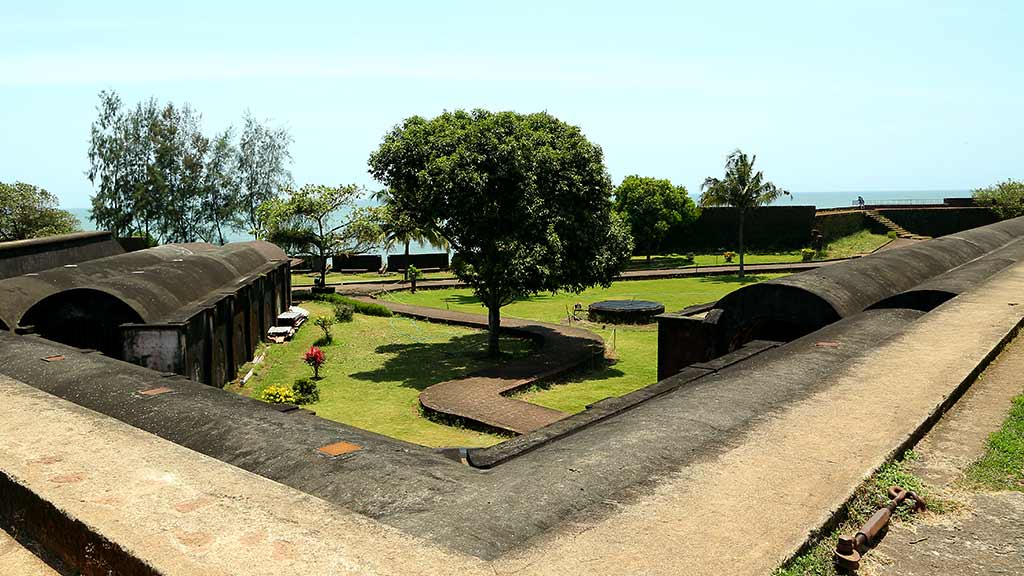 Kannur Fort or The Fort of St. Angelo
Set on a headland that juts into the Arabian Sea, the Kannur Fort is one of the ancient forts in the country. Located along the Malabar coast, the laterite, triangular fort was built by the first Portuguese Viceroy in India, Don Francesco de Almada. And like any fortified base, the Kannur Fort has riveting stories to its credit.

Built in 1505, the structure was born out of the desire to resist trade interferences from overseas and as a defence. Surrounded by the sea in the west, south and east, the location offered the fort an added geographical advantage, and thwarted any attempt by outside powers to lay siege to the fort.

History has it that the foundation of the fort was laid by Goncalo Gil Barbosa, the Portuguese 'Factor' of Cannanore. The Dutch captured the fort in 1663. In the 18th century, the British took over the fort and developed it further.  This massive fortified structure offered strong ballistic coverage with its ramparts, moats, bastions, and chain of towering laterite walls.

The gateway to the fort opens at the north-eastern corner. Even the positioning of the doorway and its style of construction show the intense thought that went towards concealing it from direct view. The gateway takes you to the citadel. You may also amble up the steps running over the gateway and reach the ramparts. The cannons loaded onto the bastions offer an insight into the many adventures that the fort was witness to. There are many structures to explore while at the fort, like the lighthouses, the jail built onto the northern rampart wall, the stables which run from east to west, the church, ammunition depot, sentry box and so on. Listen to the stories that the fort recounts, and journey through the many chapters of the medieval history of the land.

The fort is a protected monument under the Archaeological Survey of India and is one of the most visited destinations in Malabar.
Newsletter September 2020