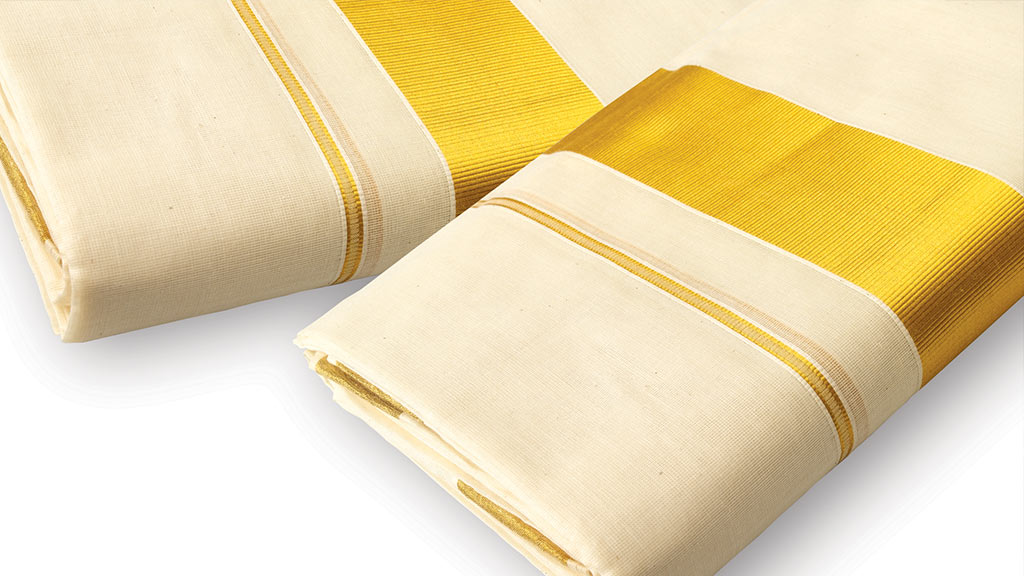 Kasavu Fabrics: The Grandeur of Golden Threads
Come Onam, Keralites drape themselves in their traditional off-white clothing with kasavu (zari) border, that oozes elegance and minimalism. Since time immemorial, any festive occasion in Kerala has been marked by the tradition of men and women wearing the finest of handwoven kasavu-bordered clothing. Their kasavu sari and kasavumundu make for the most majestic of attires.

These iconic saris and traditional handloom fabric have a history dating back to over 300 years. This handloom fabric is one of the ancient symbols of Kerala's rich cultural heritage. Born out of intense hard work and years of mastery, these legendary handwoven kasavu-fringed fabrics are much sought after by the young and the old alike.

Born in the looms of three main weaving centres - Chendamangalam in Ernakulam, Balaramapuram in Thiruvananthapuram, and Kuthampully in Thrissur - these traditional Kerala handloom wear showcase regal allure. Vogue during any festive occasion, these products also wear geographical indication tags such as Balaramapuram sarees, Chendamangalam sarees and Kuthampully sarees. The thread counts and motifs may vary according to each weaving cluster but the end product always reflects the brilliance of traditional handloom weaving. Even now, these handloom fabrics are created following the traditional methods in the looms by artisans.

History has it that the first-generation weavers were brought in from far-off lands by the royalty to serve the needs of the palace. These weavers produced fabrics for the members of the royal family. And over time, the clothing adorned with golden threads began to be worn across all the communities to mark celebratory and festive occasions. The kasavu double dhoti, veshti, sari and set mundu are so popular, there cannot be a single family that doesn't own one in their wardrobe. The kasavu sari is also an integral part of a bride's trousseau, especially within the Hindu community.
Newsletter September 2020