KERALA TOURISM NEWSLETTER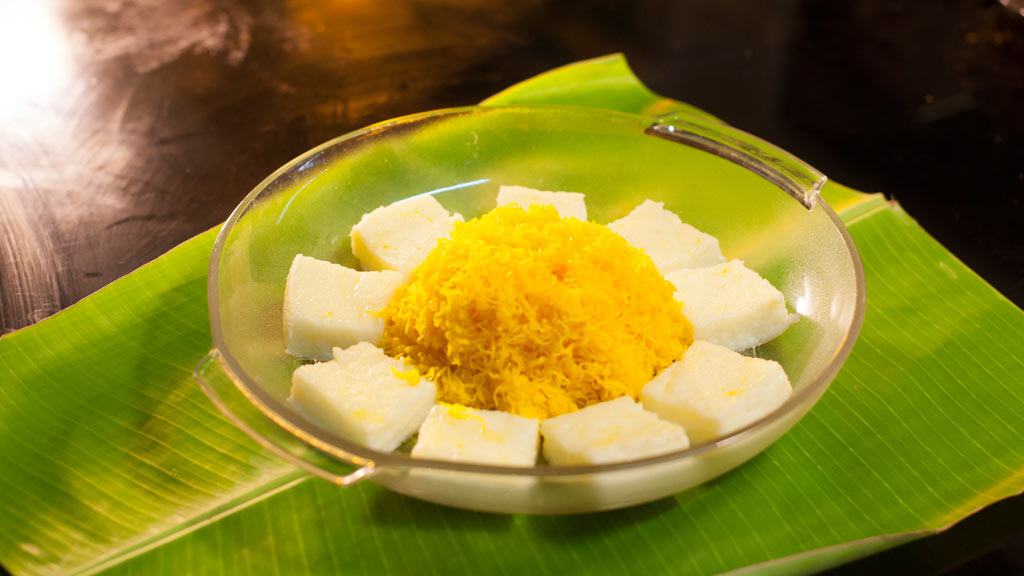 Muttamala and Pinjanathappam
An exotic sweet delicacy, the Muttamala and Pinjanathappam is the signature dessert of Malabar cuisine to satiate all your candy cravings. The Muttamala, with its utterly delicate yellow, knotty loops, rests on a steamed pudding called Pinjanathappam and is crafted from the simplest of ingredients. Oddly similar to the Portuguese favourite 'Fio de Ovos', the Muttamala and Pinjanathappam makes for the ultimate dessert and is fashioned out of eggs.

While Muttamala is made from egg yolk, the Pinjanathappam is made from egg white and sugar syrup. This taste bud-tickling combination of flavours and colours is the classic sweet from the Malabar side of Kerala. In local parlance, Muttamala translates to "egg garlands". This sweet ensemble is a festival delight and is served during special occasions.

The Malabar cuisine is a medley of flavours and is noted for its rare culinary confluence. The influence of Persian, Mughal, Arab, Portuguese, and French cuisines can be seen in the Malabar cuisine, making it a great amalgamation of flavours.

Recipe
Ingredients
Eggs: 25
Sugar: 750 gm
Milk: 1 cup
Water    
Ghee

Muttamala: Method of Preparation
Take twenty five eggs, and use two bowls to separate the egg whites and yolks. Set aside the egg whites and strain the yolks. Prepare sugar syrup by boiling sugar and water until it is of the right consistency (one string consistency).

Strain the egg yolks (using a cup with holes) and simultaneously move the strainer in a circular manner into the hot syrup to make a netted necklace of yolks. When the muttamala is ready, sprinkle some water for the easy removal of the yolk nets from the syrup. If they are clumped together, separate gently and keep aside.

Pinjanathappam: Method of Preparation
Add the saved egg whites, sugar syrup and one cup of milk and blend in a mixer or blender. Now take a plate and apply some ghee on it. Keep the plate inside a steamer for boiling.  Next, pour the liquid from the blender onto the plate.

Close the lid of the vessel and steam the mixture for 10 minutes. Pinjanathappam is ready. Slice into small square pieces and serve.
Serve Muttamala and Pinjanathappam together.