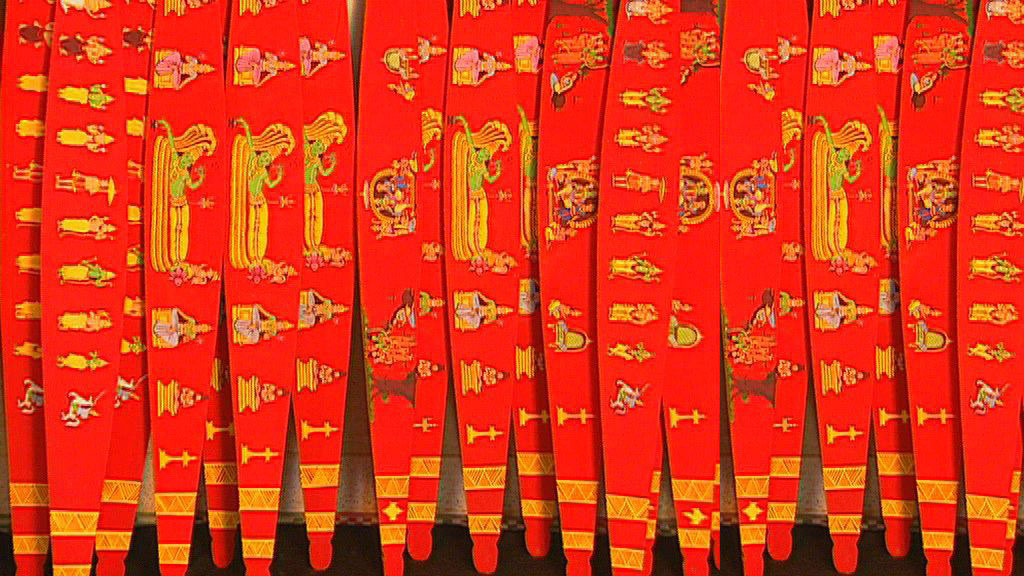 Onavillu
Every year, around the time of Onam, Onavillus or colourful hand-painted bows, replete with all the incarnations of Lord Vishnu, are crafted by the artisans of a particular family in Thiruvananthapuram. These ceremonial bows are then offered to the deity of Sree Padmanabhaswamy Temple on the auspicious Thiruvonam day. The product of a tradition that dates back to time immemorial, Onavillu oozes artistic grandeur and divinity.

The Onavillu boasts of the sheer craftsmanship and dedication of the artisans of the VilayilVeedu family, the only family entrusted with the task of making the Onavillu. Showcasing the Dravidian painting style, the Onavillu is made using only five colours, the panchavarna. The colours - white, green, red, yellow, and black - are expertly applied to create magnificent visuals depicting the incarnations of Lord Vishnu. The bows are decorated with red tassels.

The Onavillu is 3.5 - 4.5 ft long and 4-6 inches wide, and wood from kadambu or mahogany is traditionally used to make these bows. From the making of the bow to the time of offering it at the temple, the artisans follow strict penance, and the bow is subjected to a host of rituals. The bows depict Ananthasayanam (Lord Vishnu on his serpent-bed), Dasavatharam (the Ten Incarnations), Sree Krishna Leela (Lord Krishna's dance with the gopikas) and Sree Rama Pattabhishekam (Lord Rama's Coronation). Bows for Lord Sastha and Lord Ganesha are also created now.
The Onavillu also has an interesting lore behind it, linked to King Mahabali, whose return from the nether world to meet his subjects in Kerala is celebrated as Onam. According to mythology, when Vamana (the dwarf incarnation of Lord Vishnu) was about to push Mahabali to the nether world, Mahabali asked Lord Vishnu to show him all His divine incarnations. Lord Vishnu agreed to it but these incarnations could only be seen as paintings. And so, the bows are fashioned during the time of Onam, when Mahabali arrives from the nether world to visit his subjects.

The Onavillu is often regarded as a regal and divine handicraft, and these bows are worshipped at the homes of the devout.
Newsletter September 2020