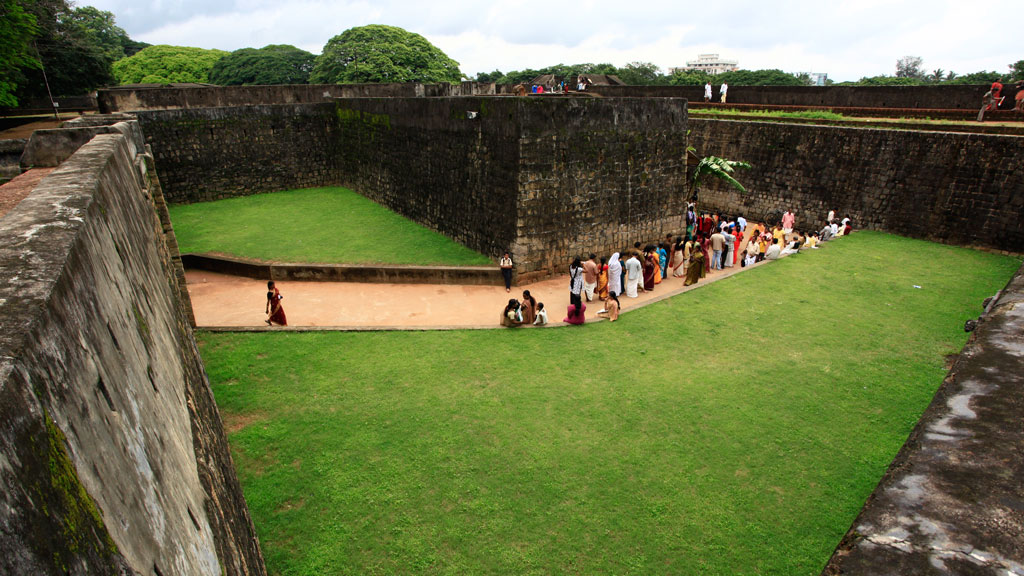 Palakkad Fort
There is an 18th century military base in Palakkad that has many riveting stories to whisper. One of the best-preserved stone-built forts in Kerala, the Palakkad Fort which is often referred as the Tipu Sultan Fort, is one of the major attractions in Palakkad.

The story goes that Haider Ali rebuilt this medieval fort in 1766. In 1790, the British captured the fort and remodelled it in European style. The entry to this square-shaped fort is from the north east side, via a modern bridge. Once you enter, you face an L-shaped screen wall. It is believed that this construction was meant to safeguard the door from any direct attack. Bastions can be seen at each corner. Ample precautions were taken to protect the doorway from external attacks.  A moat surrounds the fort.

At the main gate, you will see a stucco design, similar to what you will find in temples. In fact, in Kerala, these stucco designs are unique to the Palakkad Fort. A new age wooden doorway has replaced the old one. From the main doorway, you reach a second doorway that leads into the citadel. From the gate, the passage leads to a sub jail.

A walk along the fort will reveal unexpected wonders as you chance upon interesting ancient structures and designs. Another fascinating construction here is the ancient stone step well. A beautifully designed lawn enhances the appearance of the fort but the lawn is open to the public only in the mornings.

The fort is kept alive not only by the tourists but also by the staff of other governmental departments. The fort houses the offices of the Prison and Revenue departments on one side. Another structure houses a museum which displays sculptures and other artefacts found from the premises. For instance, plenty of temple ruins were obtained during a repair work held at the fort.

The fort is a protected monument under the Archaeological Survey of India.