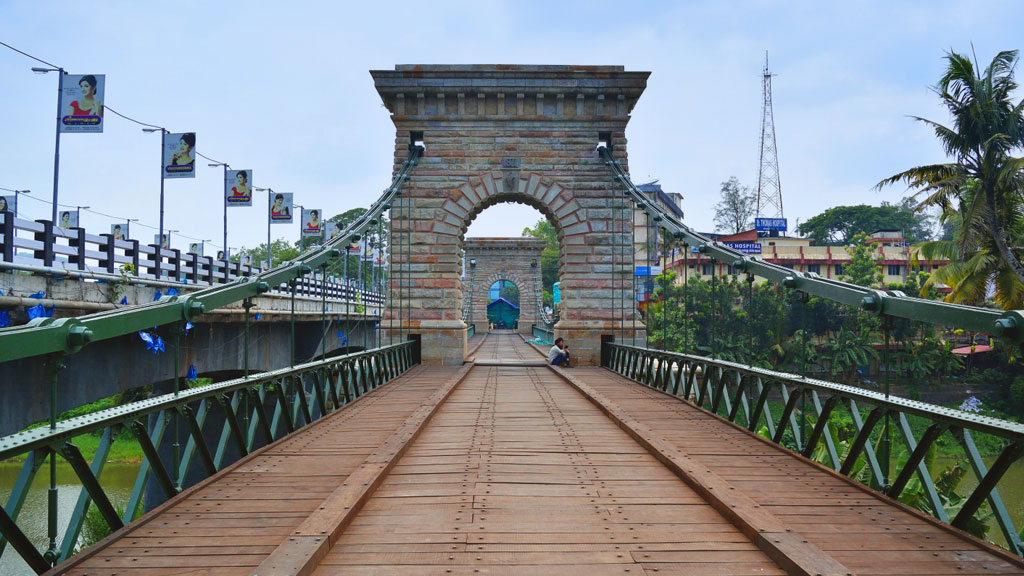 Punalur Suspension Bridge
There is a gentle wobble, as you plant your feet on the wooden planks of this ancient hanging bridge. Take a few more steps and you will be staring at the Kallada river coursing merrily beneath. It is strangely quiet here at night, except for the occasional gurgle of the waters. There is a nip in the air, and silence thrums around you. It is the kind of place that makes you sigh, and lets your mind wander.  There is another wobble, a soft reminder that more visitors are on their way to explore this 19th century marvel. The bridge is at its prettiest at night, as it stands washed in a golden yellow iridescent hue, illuminated by all the lamps around it. Only as the occasional babble of the city grows louder that you notice you are in the midst of a buzzing town.

Right in the centre of the bustling life of Punalur town in Kollam stands the Punalur Suspension Bridge, flaunting an architectural style unlike any you can find in Kerala. With massive, towering stone arches, this unique 400-ft bridge which once allowed vehicular movement is now open only to foot traffic.  The bridge was set up in 1877 and its design defies explanation. It remains suspended from iron chains, one end of all of them being connected to the insides of four huge wells.

The bridge was constructed during the time of the erstwhile Travancore Maharaja Ayilyam Thirunal Rama Varma under the supervision of the British engineer Albert Henry. The construction began in 1871, and most of the materials were imported from England. The bridge is a mix of iron, wood and masonry. The wood used was Kambam wood.  

The bridge was built to prevent the entry of wild animals which were known to destroy crops and cause huge losses to the villagers. It also facilitated trade in Kollam and ushered in major developments in the place.  

The bridge is now a protected monument under the Archaeological Department of Kerala, and is open only to pedestrians. Renovation works were carried out on the bridge and it was opened to public in 2014. Seating arrangements are provided near the bridge and there is ample lighting around it at night.

This suspension bridge which changed the face of Kollam surely has many a story to whisper. And it continues to make one marvel at its colossal structure.