KERALA TOURISM NEWSLETTER
ISSUE: 361
SEPTEMBER 2023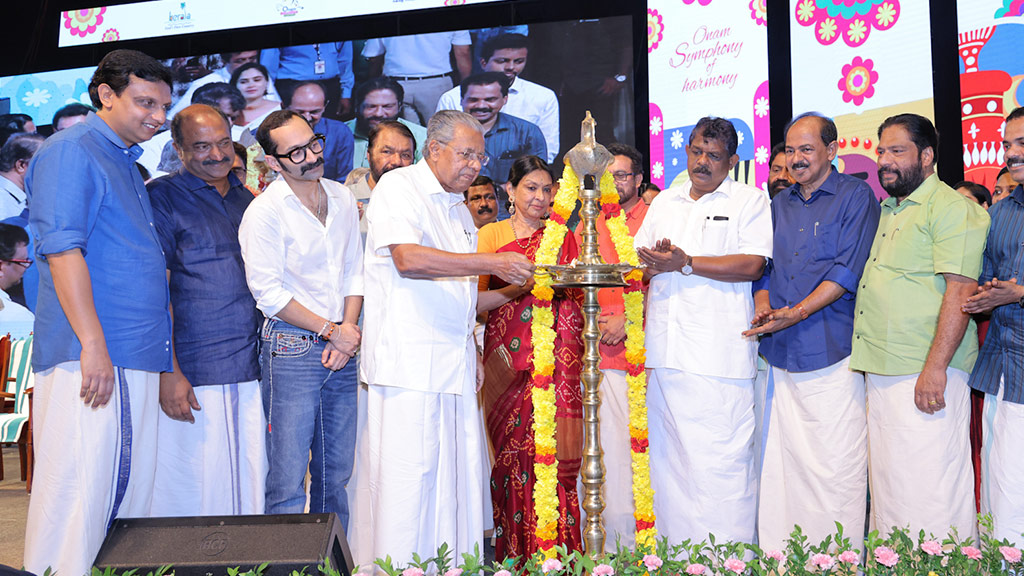 Kerala Celebrates Onam with Pomp and Fervour
The largest harvest festival of Kerala, Onam was celebrated in the grandest manner across the State. The Kerala Tourism Department, with their week-long cultural events, brought alive classical, folk, ethnic, and popular art forms before a wide audience in multiple venues in the capital city and districts across the state, based on the core theme 'Onam the symphony of harmony.' The state-level Onam celebration was officially inaugurated by Chief Minister Shri Pinarayi Vijayan on August 27 at 06:00 pm at the Nishagandhi Auditorium, Thiruvananthapuram. 

The inaugural, mega-cultural festival featured performances by about 8,000 artists who exhibited Kerala's diverse culture to the world. Students from Peringode School in Pattambi performed the Panchavadyam prior to the opening ceremony, while performers from Kerala Kalamandalam gave a stunning dance performance centered around the festival's theme. The evening's highlight was "Chinganilavu," a mega-show hosted by playback singers Biju Narayanan and Rimi Tomy.

According to the Tourism Minister Shri P. A. Mohamed Riyas, the grand festival is a much anticipated one in the state and outside. The Onam celebrations organised by the state Tourism Department is a major event in the state's tourism calendar that attracts a lot of tourists to Kerala during the season to enjoy the state's diverse and vibrant cultural expressions and savour a variety of traditional meals topped with the multi-dish 'sadya' served on plantain leaf, he added.

In the state capital, programmes were staged at 31 venues including Kanakakkunnu, Central Stadium, Thycaud Police Ground, Poojappura Ground, Shankhumugham, Bharat Bhavan, Gandhi Park, Ayyankali Hall, Vyloppilly Samskrithi Bhavan, and Museum Compound. Like in the previous years, illumination was done from Kowdiar to Manacaud in the city.  Apart from various programmes, trade and food festivals were also being held in various parts of the city. 

The festival concluded on September 2 in the state capital with colourful pageantries, bringing alive a conflux of classical, ethnic and folk traditions. There were around 60 floats from central and state government departments, quasi-government establishments, and local self-government and co-operative institutions. As many as 3000 artists participated in the procession, which was flagged off by Governor Shri Arif Mohammad Khan at Manaveeyam Veedhi in the capital city. 

Actors Shane Nigam, Neeraj Madhav, and Antony Varghese (Pepe) attended the closing ceremony, where the performance of Harisankar's music band was the highlight. At the pageantry, Kerala Tourism's more than 100 meter-long float 'Garden of Lights,' jointly created by Responsible Tourism (RT) Mission, Eco-Tourism and Adventure Tourism, hogged the limelight. The women's bike rally of RT Mission was part of its woman-friendly tourism initiative. 
Newsletter September 2023