---
Gothuruth Boat Race
---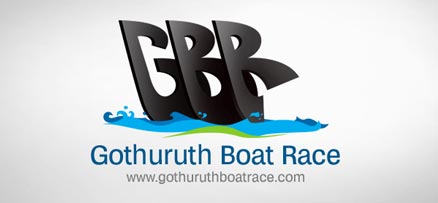 History and culture brims in every inch of Gothuruthu, a small island in Ernakulam and a part of the renowned ancient port town Muziris. It was in the soil of Gothuruth where the colourful theatre form called Chavittunatakam has had its first steps. The place is also noted for a spectacular sport event - the famous Gothuruthu Boat Race (GBR) held annually in the month of September.
The event takes place in one of the tributaries of River Periyar on whose banks are located the Moothakunnam Sree Narayanamangalam temple and Kadalvathurthu Holy Cross Church. This religious harmony works as a catalyst to enhance the participation of residents in and around Gothuruth or Gothuruthu. Visitors from neighbouring towns like Paravur, Aluva, Angamali, Chalakkudi, Kodungalloor and Thrissur too flock in as spectators. The race is also witnessed by hundreds of tourists both national and international. Ever since the race commenced in the year 1938 it has become the spirit and passion of the people here. Last year the boat race celebrated its platinum jubilee in all its glory.
The boat race has been organised by Gothuruth Sports and Arts Club (SAC) and the 76th edition of GBR will be held on 22nd September 2013.
Website: www.gothuruthboatrace.com
Getting there:
Nearest railway station: Aluva, about 22 km away.
Nearest airport: Cochin International Airport, about 26 km from Ernakulam.