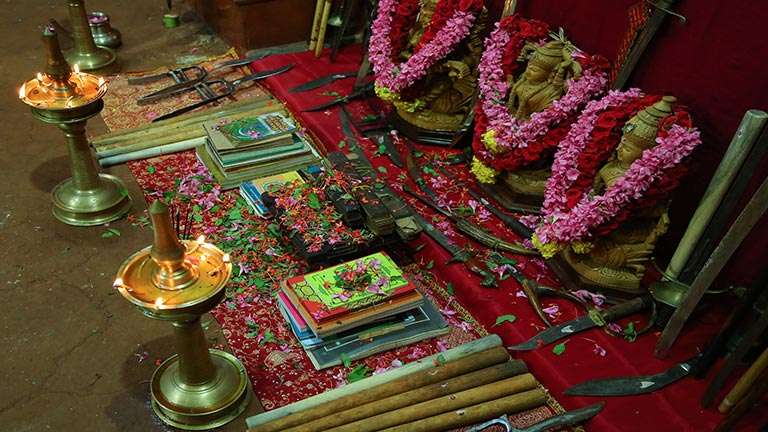 K. Narayanan Gurukkal is the founder of the C. V. N. Kalari at Nadathara in Kozhikode. C. V. Narayanan Nair Gurukkal, the student of Kotakkal Kanaran Gurukkal, was his contemporary and close friend. Narayanan Nair was born into a family that was famous in North Malabar for their expertise in traditional medicine. He learnt Kalaripayattu and Marmachikitsa from his ancestors. He has won numerous awards at the national and international levels, including the American Excellency Award in 2000 for his expertise in Kalaripayattu and Marmachikitsa. Narayanan Nair was the District Secretary of Kalari Association for nearly 30 years and a leader of the same organization at the state level for five years. Following his death in 2000, his sons Anil Kumar, Sunil Kumar and Gopa Kumar took over the stewardship of the C. V. N. Kalari.
This kalari had gained international fame in the time of Narayanan Gurukkal. He used every opportunity to make Kalaripayattu popular among the masses. His connection with Kalaripayattu and the field of Malayalam cinema began right from the time of the release of the famous blockbuster Thacholi Othenan (1964), in which the famous thespian Sathyan played the eponymous role. Thereafter the C. V. N. Kalari could make its presence felt in the field of Tamil cinema, Bollywood and even Hollywood. Its stamp on the action scenes in Jackie Chan's The Myth, and Hindi movies like Dil Se, Asoka, Ravan, Bajirao Mastani and others has made C. V. N. Kalari a force to reckon with. Moreover, it has been regularly showcasing the beauty and grandeur of Kalaripayattu in various prestigious opera houses in Europe, and organizing programmes in Europe, the Middle East, Japan and China. In fact, every year, the C. V. N. Kalari team undertakes foreign trips for six months on similar projects.
Although Kalaripayattu training is recommended for children by the time they turn seven, it is possible to start at relatively advanced ages too and gain mastery over this martial art under the tutelage of a good, skilled asan. The C. V. N. Kalari gives a kind of customized training to each of its students, according to their requirements, be it for maintaining good health, increasing flexibility of the body or studying self-defence techniques. The methodology is decided after taking into consideration the physical nature of the trainee. There are students who have been undergoing training for a long time here. But there are others who sign up for short-term courses. Special training sessions for foreigners have also been planned and put into action. Many a foreign student of C. V. N. Kalari has set up their own training centres in their homelands as well.  

The Kalari also caters to demands by certain students who wish to be trained in Kalaripayattu, classical dance and music too.  All traditional medical procedures associated with the kalari are provided at the C. V. N. centre. It is well known for effectively treating disorders of the bone, nerve and muscle, and for the thorough Marmachikitsa and Thirummu [massage] protocols it follows. Finer aspects of Thirummu like Raksha Thirummu (for healing), Sukha Thirummu (for relaxation and rejuvenation) and Kacha Thirummu (for suppleness and stamina) are also practised here. The oils and medicines required for all these procedures are prepared at the kalari itself. There is the Ayush Ayurveda Ashram attached to the C. V. N. Kalari where patients can stay for long-term treatment. A wholesome vegetarian diet is provided to the in-patients. It also has facilities to host indigenous art forms for their entertainment. Besides, it conducts guided tours for interested visitors.