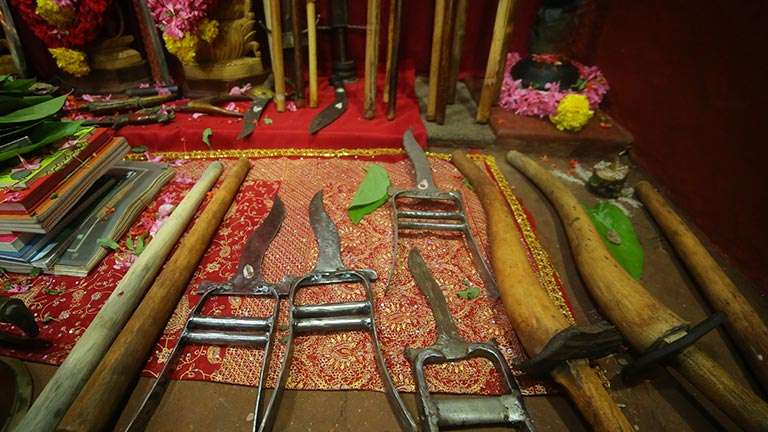 This kalari was set up in 1962 by Gopalan Gurukkal, a member of the family of Kottakkal Kanaran Gurukkal and one of the most prominent disciples of Kanaran Gurukkal and Narayanan Gurukkal. During his lifetime it was known as C. V. N. Kalari. It was renamed after his demise. His son V. M. Vijayan Gurukkal is the asan at the kalari now. Vijayan Gurukkal's son Vikas and daughter Kavitha who learnt Kalaripayattu in the traditional style under him are instructors at the centre.
The Gopalan Gurukkal Smarka C. V. N. Kalari is a kuzhi kalari, and the Northern style is taught here. Among the 100 who have enrolled themselves for the training at present, there are resident students as well as day scholars. Twenty of them are girls. Besides them, there are others who have been training for several years, some of who are in their fifties, sixties and even eighties. Since its inception, more than 3,000 students have gained training at this centre. Students come here regularly from countries like France, Italy and Canada. Most of them are theatre artistes, and for the past five-six years, they have been coming here each year for three-, four- or six-month training. A few have started their own kalaris in their homelands.
Sportspersons seek out Gurukkal's help because they believe Kalaripayattu will help them improve body flexibility as well as powers of concentration. They are either players of basketball or shuttle badminton or swimmers. Ms Aparna Balan, a national badminton player and resident of Kozhikode, trained at Gopalan Gurukkal Smaraka C. V. N. Kalari for a long time. She has won medals at Commonwealth and Asian Games and comes to the centre occasionally.
Dancers and performing artistes also come here for help in choreography. Help for action choreography in films and plays is also sought. The centre conducts Kalaripayattu performances regularly, and its students participate in programmes conducted by the Cultural Affairs and Tourism departments of the state. On prior notice, the centre makes arrangements for Kalaripayattu shows as well as Kathakali recitals, Theyyam dance and other traditional art forms. It has facilities to take in-patients, and give them Marmachikitsa as well as various kinds of massages.