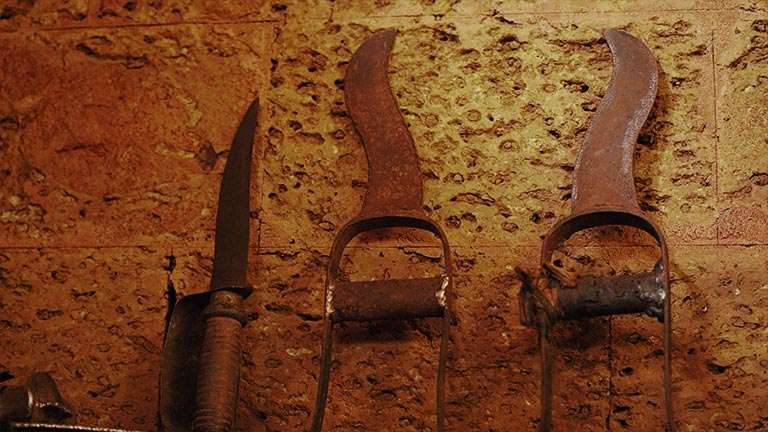 Shifa Kalari that has been in existence for over 40 years follows the gurukulam system of educating residential scholars. Ibrahim Gurukkal, the founder of this kalari, is the student of Muhammed Gurukkal, one of the Trinity of Northern Kalari (the others being Ali Gurukkal and Yusuf Gurukkal). He started his training in Kalaripayattu at the age of seven. Today, at the age of 61, he is helped by his son, Rasik Ali, an Ayurvedic doctor by training.
Shifa Kalari is a thara kalari, and has no Poothara or any deity. As a result, there are no propitiatory rituals either. Anyone interested in learning Kalaripayattu, no matter what his religion, is welcome here. Shorn of all traditional and ritualistic paraphernalia, this martial art is taught as a useful technique of self-defence for the modern generation.  
Training is imparted to students after enquiring about their aims or purposes and analysing their physical stamina. Some people come here to reduce their obesity, others to improve their levels of concentration, yet others to find cure for their aches and pains. At present, 20 students have enrolled themselves here for the training. They have earned gold medals at state- and national-levels. Classes are conducted twice a week to suit the convenience of school- and college-going students. Those who wish to compete for championships are given appropriate, high-level training. Foreign students from Italy, Germany, France, South Africa, the Netherlands, Ukraine and Russia come here to learn Kalaripayattu, Marmachikitsa and so on. 
Special training programmes have been designed for girls to help them ward off attackers and defend themselves. Recently 33 girl students from Chundel R. C. School underwent this training here. Thus Shifa Kalari excels in imparting need-based training.
On invitation, the personnel at Shifa go to tourist resorts in the region as well as foreign countries for Kalaripayattu performances, to schools and other institutions to conduct lecture-demonstration sessions, and participate in activities organized by cultural institutions like the Nehru Yuva Kendra. Shifa Kalari is a member of the Kalari Federation of India (KFI).  Ibrahim Gurukkal has been a member of the judging panel of the National Kalari Championships for the past five years, and is also a member of the Technical Committee of the Kalari Grading Committee.