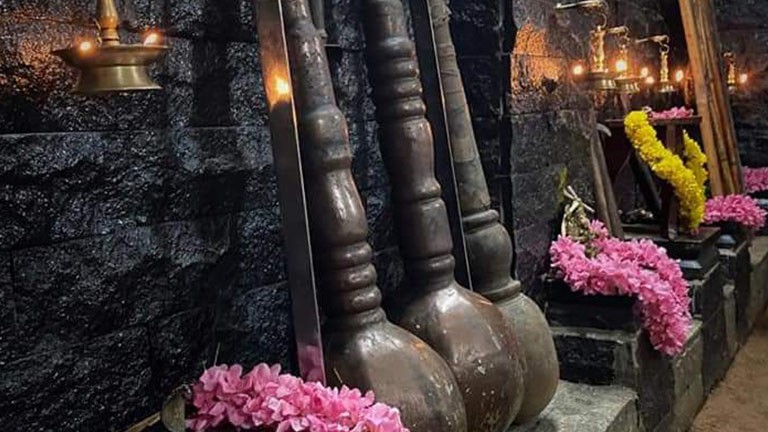 Chronicle
Madhava Matam CVN Kalari was started by Shri. Ramachandran Nair in the year of 1974. Later he opened branches of this institution at many places inside and outside Kerala during different time period. Capital center of Madhava Matam is continuing in Pappanamcode as a hub of traditional Ayurvedic treatments and as an authority of northern style of Kalaripayattu, which is located 5 kilometers away from Trivandrum Central.

Work for establishing Kalaripayattu and traditional medicinal practice were done simultaneously by Ramachandran Gurukkal, which made Madhava Matam an authentic place of approach and referral center for martial art lovers and patients. Various Kalari centers opened under the supervision of Gurukkal inside and outside Kerala given a good public figure to Madhava Matam. The capital center at Pappanamcode, near Thiruvananthapuram is working now under the supervision of Dr.Gowthaman Gurukkal (son of Late. Ramachandran Gurukkal). Madhava Matam CVN kalari added up with training on Therapeutic Yoga for patients and Collective modules of Kalaripayattu - Yoga training for ladies under the supervision of Dr.Priyanka.

Offerings

1. Kalaripayattu
The basic concept of Kalaripayattu training is to achieve confidence physically and mentally. Training starts with sequences of body exercises which help to attain flexibility and stamina. Continues and regular practice is essential for beginners and so passion towards this martial art and hard work is must. Meypayattu - a sequence involved with stretching, turning and jumps, which are all works under MEYTHARI.

After attaining desirable physical fitness, student is introduced to the techniques of handling weapons. Different types of sharp as well as blunt weapons are used for training which gives the knowledge - target areas of attack. Balance and stability of body helps in defense and attack with utmost controlled delivery of energy. Training by wooden weapons are included in KOLTHARI and sharp weapons are included under ANGATHARI.

Training on bare hand attacks and defense concentrated mainly on MARMAS/vital points of human body. Because of its potency is high, the student has to be raised mentally to a stable position, for right decision at right time. Spiritual aspects of kalari play a unique role in molding the mental health and thoughts of a student, to give priority to protection rather than attack. Yoga and meditation is closely linked with this latter part of kalaripayattu training to upgrade a student to a master. Kalari-master/Gurukkal is not merely a teacher of martial art but also admissible and respected by the society for his healing power and positive energy.

Trainings provided
Regular Training:
Regular classes - Morning 6:00 am to 8:00 am (Monday - Friday)
Special classes for Children - Morning 6:00 am to 8:00 am (Saturday & Sunday)

Special Classes for Theatre Students:
Basic Level of Training: 2 months of training will cover the basic of Meythari, which improve body kinetics and is useful for dancers and theatre people.
Advanced training is always depends on the proficiency in Meythari.

Special Classes for Foreigners:
Evening Classes will be arranged if requested for special attention, but progressive studies will always depend on the proficiency and flexibility of the student.

Performances & Workshop:
Performance can be arranged for a group of 25 members in Kalari premises by one week time of prior booking.
Performances and workshop outside kalari can be conducted on two weeks notification for the arrangements of performing team. Travelling expenses, food and accommodation should be arranged by the organizers.

Duration of Performance:
Basic: 45 minutes
Advanced : 1 hour

2. Marma Chikitsa 
Marma Chikitsa is an individual branch of treatment, which developed as a specialty by kalari masters. Majority of injuries happening during combat were treated with special manipulation techniques and medicines. Acute Musculo-skeletal injuries are treated with quick remedial measures. For chronic and severe injuries, generalized treatments are specified in kalari treatment methodology. Efficacy of treatment depends on proficiency in Kalaripayattu which provides energy to the hands and foot of the Masseur. Special training methods for massage as well as traditional methods of preparing medicines gives peculiarity for Kalari treatments than other Ayurvedic treatment modalities.

Uzhichil:
A particularity in Kalari chikitsa, in which an experienced person will be massaging the patient by his foot. Body flexibility of a kalaripayattu practitioner and his knowledge on vital points of body is highly influenced in the result of this treatment. Range of movements and application of force over the body is highly balanced while administering this treatment.

Contact
Madhava Matam CVN Kalari Ayurvedic Centre, 
Pappanamcode, Thiruvananthapuram - 695018
Kerala, India
Phone : + 91 9895549117, 7510354117, 91 471 2490551
Email : gowthamrd@gmail.com
Website : www.keralakalari.in