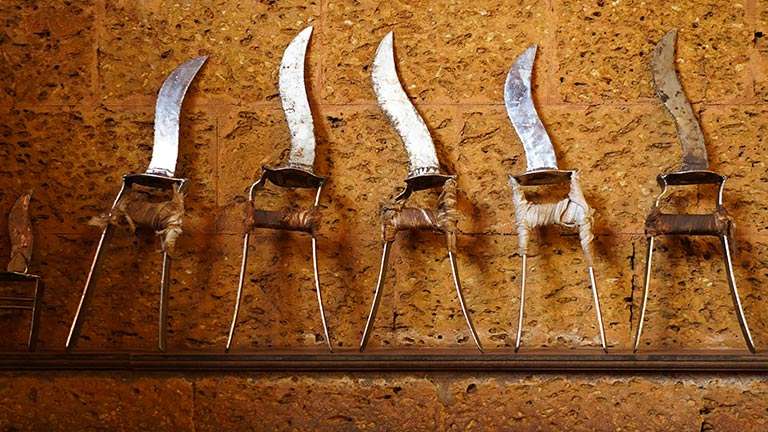 The Ekaveera Kalaripayattu Academy was established in Thalavady, Aryad in Alappuzha in 2008. The founder-Gurukkal of the centre Harikrishnan has acquired mastery over the Northern, Southern and mid-Kerala styles of Kalaripayattu. He was trained in the Southern style initially and his instructor was Sylvas Gurukkal at Alappuzha. Even while undergoing training, his interest in Kalaripayattu grew stronger. In a bid to learn the Northern style he went to Vadakara, in Kozhikode in North Kerala, and gained expertise in it too. Subsequently, he learnt the mid-Kerala style as well. It was a deep-rooted desire to disseminate information about this martial art to the maximum number of people and to generate interest for it in them that inspired him to set up his academy in Thalavady.  
The Ekaveera Kalaripayattu Academy has a kuzhi kalari, although the geographical features of Alappuzha does not yield itself easily to this structure. Digging as little as one foot into the ground is enough for water seepage to begin. So Harikrishnan had to get the sand removed and opt for a concrete floor. The unprecedented floods that ravaged Kerala in 2018 were particularly severe in Alappuzha district. The Ekaveera Kalaripayattu Academy was inundated, and as a result, a fresh concrete floor had to be laid. It follows the traditional dimensions – being 42 feet long and 21 feet broad.
The centre gives training in Northern and Southern styles of Kalaripayattu. The age of students range from 5 to 40 or more. The group is a mixed one that includes school- and college-going students, employed people and even stay-at-home wives. They are trained in practically all aspects of Kalaripayattu – using the body and the arms, and employing long as well as short sticks, spears, sword and shield, urumi and so on. The centre encourages promising trainees to participate in district- and national-level competitions by giving them special training. Customized short-term training programmes have been devised to help visiting foreigners understand and practise the basics of Kalaripayattu. The latest group of aspiring students from overseas to visit Ekaveera Kalari Academy was from Russia. Classes are usually conducted on Mondays, Wednesdays and Fridays. On demand, special classes are held in the mornings. Convenient timings for training are arranged for foreigners as and when they come to the academy. Although the centre has no accommodation facilities, it has provisions to arrange board and lodging on special request.  
The centre has branches in other districts as well – Kottayam, Pathanamthitta and Kollam. His former students run these branches. Harikrishnan makes weekly visits to each of these centres to supervise their activities. At present, nearly 1,200 students are being trained in them. Within the last decade, more than 2,000 students have undergone training at Ekaveera Kalari Academy. On a special invitation, Harikrishnan conducted a one-month-long training programme in Sharjah. He has also made overseas visits for Kalaripayattu performances. He also conducts lecture-demonstration sessions and special Kalaripayattu shows on one day's advance notice.
Marmachikitsa used to be conducted earlier but presently, due to lack of time, it is not offered to outsiders. The centre organizes massage sessions for its students regularly during the rainy season, in the Malayalam month of Karkidakam (July-August).