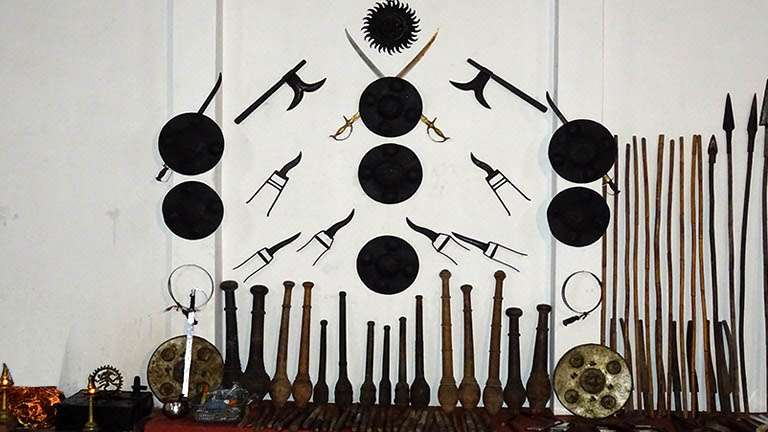 The founder of E. N. S. Kalari at Nettur, Ernakulam is Sripathi Embranthiri, a native of Mangalapuram. Also known as Mani Swamy, Sripathi came to Nettur along with his paternal uncle's daughter when he was an infant of two. He started training in Kalaripayattu at the age of 14. But since it went against the orthodoxy of his caste, he had to overcome a lot of resistance. He braved it with a strong sense of determination and mastered the Northern style under the tutelage of Krishnan Gurukkal and the Southern style under Narayanan Gurukkal, taking eleven years to complete his studies. He simultaneously learnt Marmachikitsa during this period. Even while officiating as a priest at the Nettur Mahadeva temple, he offers free service as a masseur to the common people of the locality.
Sripathi established the kalari in 1954. He was a Kalaripayattu instructor at the Shoranur High School for ten years from 1960, became an instructor at the Ernakulam Gymnasium from 1974, and Kalaripayattu trainer at the Bharatiya Vidya Bhavan from 1982. Alongside this, he trained hundreds of students at his own kalari at Ernakulam. 
At present, the reins of the E. N. S. Kalari are held jointly by his children, E. S. Narayanan Embranthiri and E. S. Vijayasree Embranthiri. The two had started training under their father at the ages of 14 and 11 respectively, and Narayanan has been an instructor at this centre from 1990 onwards. In 1992, on an invitation extended by the World Seido Karate Association, Narayanan Gurukkal went to South Africa for a Kalaripayattu performance and training session. By now, he has been to various parts of India and the world on a similar mission. Narayanan Gurukkal has designed programmes which have a mix of traditional Kalaripayattu, yoga and classical dances. Besides all these, he regularly undertakes action choreography for various performing arts. His sister Vijayasree is also a teacher at the E. N. S. Kalari, and is its official spokesperson.  
The E. N. S. Kalari has been officially recognized by the Kalaripayattu Federation, and is affiliated to the Kerala Kalaripayattu Association. It teaches both the Northern and the Southern styles. Students from outside Kerala and from abroad come here in huge numbers to learn Kalaripayattu. Besides the traditional training, books and videos are also used to impart and perfect the training. Over and above the regular training sessions, special classes and short-term courses ranging from one week to one year are also offered at this centre. On request, accommodation facilities are also provided to students. Marmachikitsa is also done here, alongside oil massage. A one-hour Kalaripayattu show is organized at the centre on a daily basis, and provisions have been made for visitors to see Kalaripayattu performances between 3 and 7 in the afternoon on Sundays.
Video documentaries on Kalaripayattu, small models of Kalari weapons, post cards and books on Kalaripayattu as well as audio and video CDs of traditional instrumental music are available in the boutique attached to the kalari.