KERALA TOURISM NEWSLETTER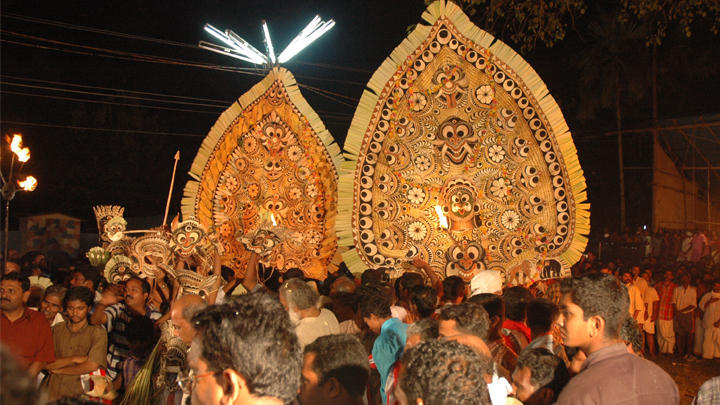 A Spectacle of the Divine
As the night winds blow, a splash of wild colours and daunting masks that churn mysterious rhythms ascends a fiery spectacle that is unique to Patayani. Performed in Central Travancore, precisely in the district of Pathanamthitta, Patayani is a ritualistic art form with pre- Dravidian origin. It ushers in full throttle the spirit and culture of a bygone era, their concept of divinity and worship. It is a spectacular amalgam of music, dance, painting, theatre and satire; unraveling itself and its spectators into a world of enchantment.
Historically, Patayani belongs to the rich martial art tradition of Kalaripayattu. Patayani, which means 'row of warriors' is believed to have been performed by the warriors trained in Kalaripayattu displaying their strength and chivalry in order to frighten their enemies from the southern part of Travancore.
The images of the deities adeptly drawn on the masks made from areca nut spathes are called kolams (effigies). Each Kolam assumes different shapes. Natural colours are used in painting the kolam. Bhairavi Kolam made of 1001 painted areca nut fronds appearing on the last day of the Patayani held at Othara is an awe inspiring spectacle. Kolams represents Goddesses performing dance, kolamthullal in tune with kolapattu, prayers to the folk deities and thappu melam, the playing of a traditional percussion instrument.
Patayani captures the charisma and the character of a tradition in the most arresting frames of the supernatural and the exotic. The form, the ritual and the ceremonial accompaniments to Patayani undergo slight variations or additions from village to village. Kadammanitta Patayani is the most famous Patayani performed in the region and is considered as a glorious tribute to the Goddess or Bhagavathy, the presiding deity at the Kadammanitta Bhagavathy temple in Pathanamthitta district.
Patayani is an astounding reminder of a past, which was at once raw and robust. For the villagers, it is more of a cult than an art, a pattern of their life vibrant with an array of cultural significations.