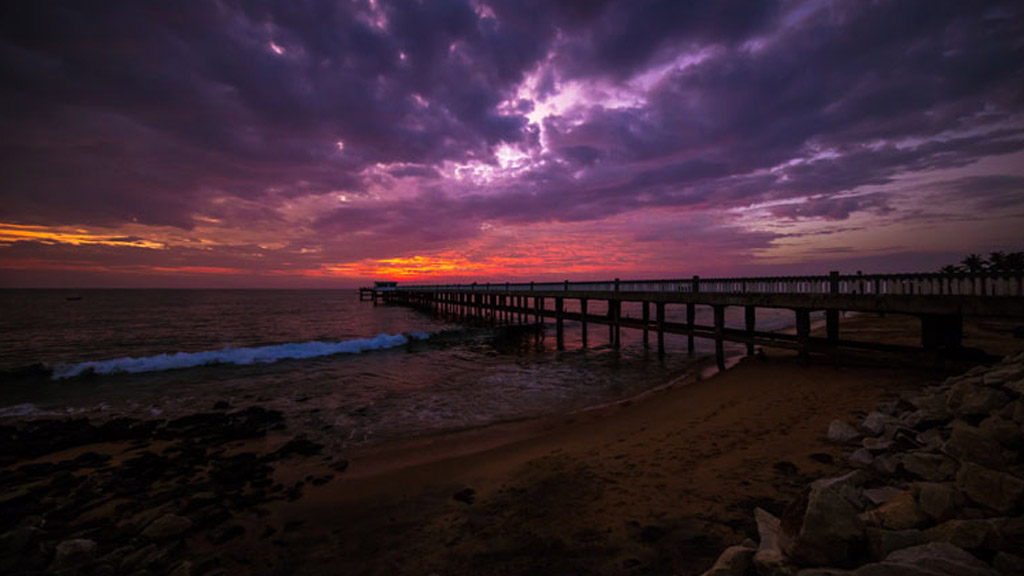 Explore the Ancient Pier
Visit Valiyathura in the suburbs of the capital city of Kerala to see a 60-year-old pier that still stands majestic, reflecting the regal legacy of God's Own Country.
Lined with coconut groves, Valiyathura is an alluring beach that invites you to soak up the sun, play on the sand and swim in the sea. The 214 m long pier is a stunning piece of architecture, that makes you marvel at both the engineering skills of humans and the sheer power of the elements.
Valiyathura, hat was once the most prominent and busiest port in South India, is currently one of the popular tourist attractions in Thiruvananthapuram. The place is bound to enthral you with its stunning panoramic views of the endless blue ocean, the golden shore, the azure waves crashing frothily against the rusty pier and fishermen engaged in their daily chores.
In the past, the pier was supported by 127 concrete piles, and used four 3-tonne cranes and one 10-tonnerto unload cargo from the ships. Heavy ships would anchor in the deep sea, and goods were transported to the shore via small boats as the pier was located in shallow waters. But over time, Valiyathura lost its significance and was declared inactive in the 1980s. Since then it has been abandoned and is now popular as a tourist place.
The very sight of fishermen carrying their catamarans to the edge of the Valiyathura pier throwing them into the sea, then diving into the waters, and swimming towards it during monsoon season is a spectacle to behold.
Valiyathura is situated around 5 kms from Thiruvananthapuram, and is a perfect weekend gateway for all travel enthusiasts.