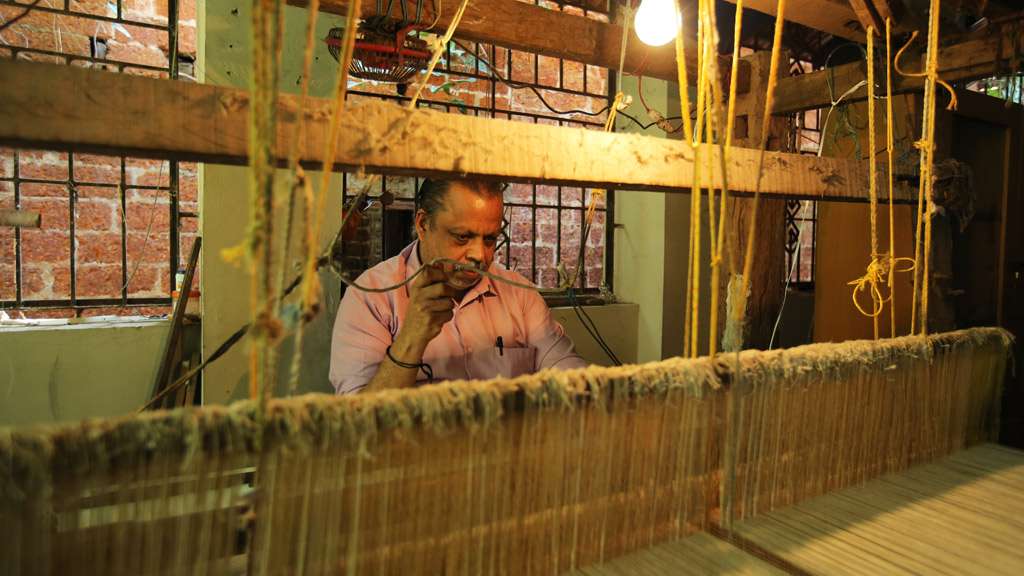 A weaver at Azhikode Handloom Village
The handloom industry in Kannur district dates back to the 16th century, although it became popular only in the 19th century. The weavers belonged to Saliya community, a traditional artisan group, who were brought from Tamil Nadu by the Chirakkal kings for producing fabric needed for the royal family. They were given land, and access to nearby temples. Their settlement led to the establishment of different weaving theruvus [streets] across Kannur. Azhikode Handloom Village is one such weaving street in Kannur district, located 8 kms from Kannur town.
In this village, weaving was part of their life.  The whole family was involved in weaving, winding and beaming. In Kannur, the majority of weaving streets worked for industrial societies. The industry enjoyed a period of boom during 1960-80 when "Kannur Crape" was a hit. Other major products of this handloom village were towel, dhoti and panimundu [lower cloth]. Now, only five to six families are involved in handloom weaving and most of them work for Hantex, where they supply fabric for school uniforms.