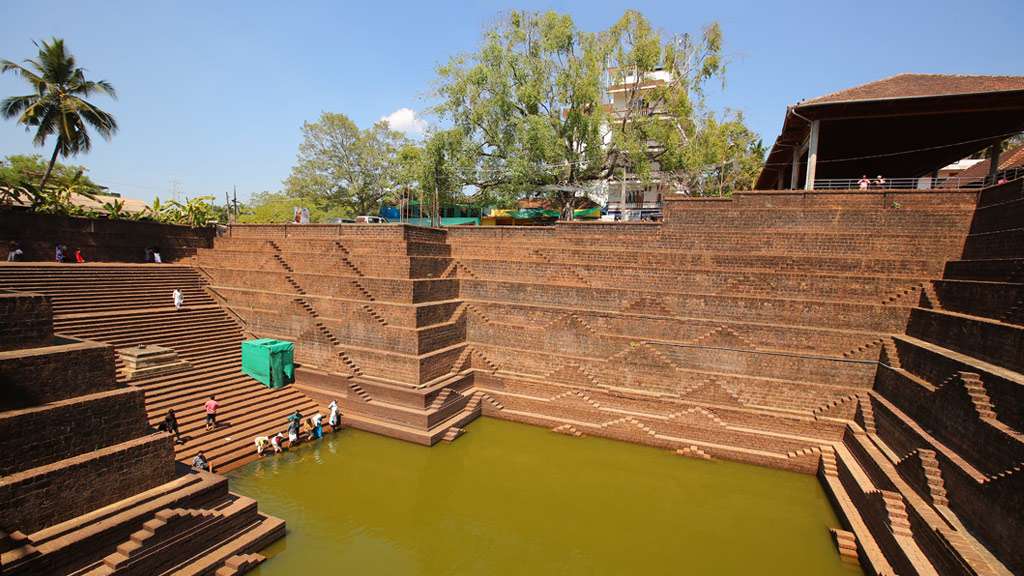 Sree Peralassery Temple pond
A famous pilgrim centre in the North Malabar region of Kerala, Sree Peralassery temple is situated at Peralassery in Kannur. The main deity worshipped here is Lord Subramanya. The temple traces its origin to the Thretha Yuga. As per the Ramayana, Lord Sree Rama along with Lakshmana and Hanuman, on their way to Lanka in search of Sita (consort of Sree Rama), reached this place and felt the presence of Lord Subramanya. On approval from Lord Ayyappa, Sree Rama decided to consecrate the idol of Lord Subramanya in this place. He sent Hanuman to the north to find a suitable idol to be installed. When he failed to come at the right time for consecration, Sree Rama removed his Peruvala [great bangle – a symbol of kingdom] and consecrated it. Hence the place got its name Peruvalassery, which in course of time got contracted to Peralassery. Later Hanuman tried to remove the bangle in order to consecrate the idol, but could not do so as he was warned by a serpent.
Famous for snake worship, hen's eggs are the main offerings in the temple. The annual Kodiyettam festival is a key attraction here and usually falls in December. The traditional temple art forms like Thayambaka, Irattathayambaka, Chakyarkoothu, Pattakam Ottan Thullal, and Kathakali are performed in the temple during festival seasons. A visit to the temple during this time will leave you elated and spiritually energized.
The temple pond is a source of wonder for all devotees, and taking a dip is considered sacred. This rectangular pond has an impressive architecture with countless steps leading into the pool from all the four sides. The local belief is that on the day of Thulam Sankramam, water from the Cauvery will reach the well of temple pond. This temple, renowned for its architectural splendour and legends, is a must-visit destination.
Temple Timings: Morning 4.00 am – 12.30 pm & Evening 4.15 pm – 8.00 pm
Watch the video