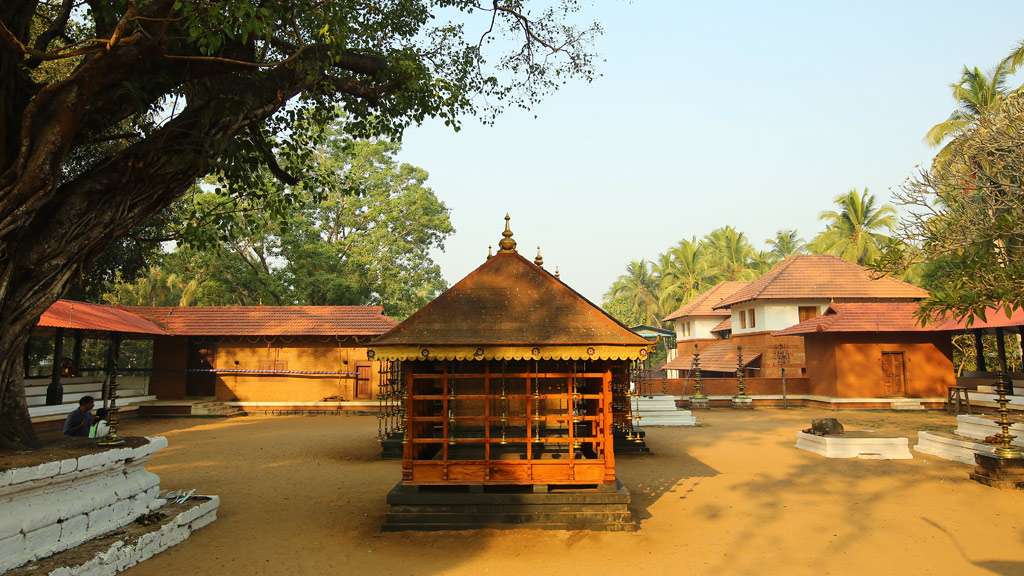 Andalur Kavu Temple
Andalur Kavu, located at Andalur in Dharmadam village of Thalassery, is one of the ancient temples in North Malabar region of Kerala and is believed to have been built by the Sage Parasurama, the fifth version of Lord Vishnu. There are two Kavus [shrines] in the temple – Mele Kavu [Upper Shrine] represented as Ayodhya and the Thazhe Kavu [Lower Shrine] as Darika. The main deities of this temple are Sree Rama, Lakshmana, Hanuman and Sita Devi.
Different myths are associated with the temple. The legend is that a spark emanated from the chaapa khandam (broken bow) of Lord Rama at the time of Sita Swayamvaram, fell at the Thazhe kavu and split into three. Experiencing the immaculate power of the three-pronged spark, Sage Narada directed Lord Parasurama to install three powers to represent Daivathaar, Ankakkaran and Bappooran.
The annual festival at Andalur Kavu falls in February and it is a time of celebration for the whole community. The Theyyam performed here depicts stories from the Ramayana and attracts many people far and near. Daivathar Theyyam represents Lord Rama, Bappuran Theyyam represents Lord Hanuman and Angakkaran Theyyam represents Lord Lakshmana. The festival takes place in the Malayalam month of Kumbham which falls in February-March. During this time the whole village observes vegetarianism and participates in the rituals and the customs of the temple.
A museum in the temple gives you an overview of Theyyam performances at Andalur Kavu and its history. One can also observe a miniature version of the temple complex and a life-size idol of Theyyam.
Temple Timings: Morning 5.00 am – 12.00 noon 
                               Evening: 5.00 pm – 8.00 pm