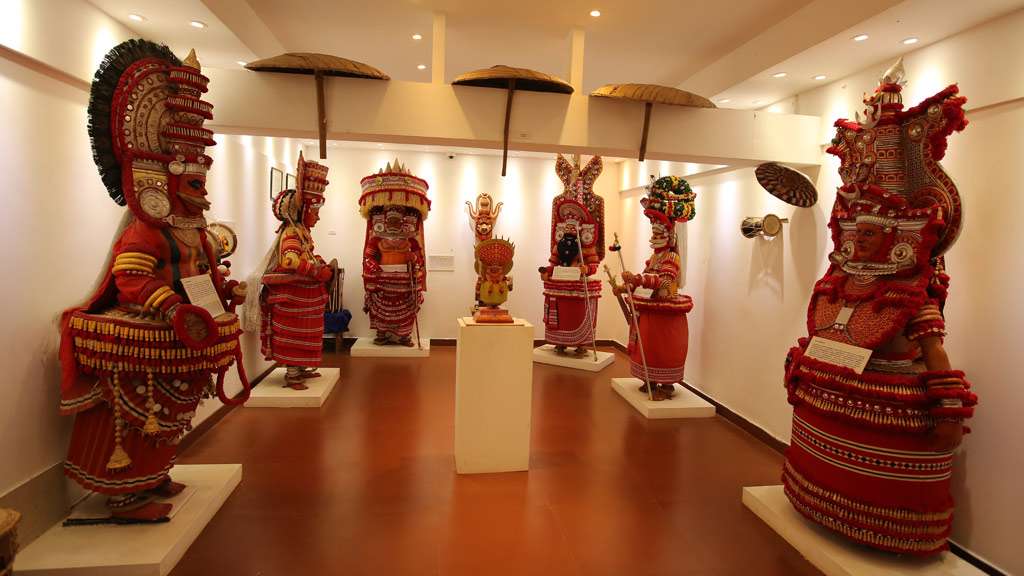 Theyyam life-size models in Chirakkal Folklore Museum
Chirakkal Folklore Museum, adjacent to Chirakkal chira, was established to protect and preserve the folk culture and heritage of Kerala. It was originally the home of the Chirakkal royal family. The kings of Chirakkal royal family are remembered for promoting folklore and arts, and in recognition of that, the Kizhakke Kovilakam of the Chirakkal dynasty was taken up by the Government of Kerala, and the Kerala Folklore Academy set up in 1995. The entire building houses the Folklore Museum, the administrative block of the Academy and a library.
The outer wall of the museum showcases a sculptural representation of the folktale "Parayi Petta Panthirukulam" – a story of 12 children born to a woman of lower caste, and the 12 castes that formed thereafter. On stepping inside, the visitors get a glimpse of the artistic heritage of the state. The museum has life-size models of Theyyam as well as Padayani, miniature forms of other folk arts, and their costumes, headgears and so on. Moreover, the agricultural equipment and percussion instruments used by tribal people are collected and preserved here. The objects used by the royal family also find a special place in the museum. The museum gives information about the folkart culture and heritage of Kerala, particularly Theyyam and its different kinds.
Visiting Hours: 10.00 am to 04.30 pm