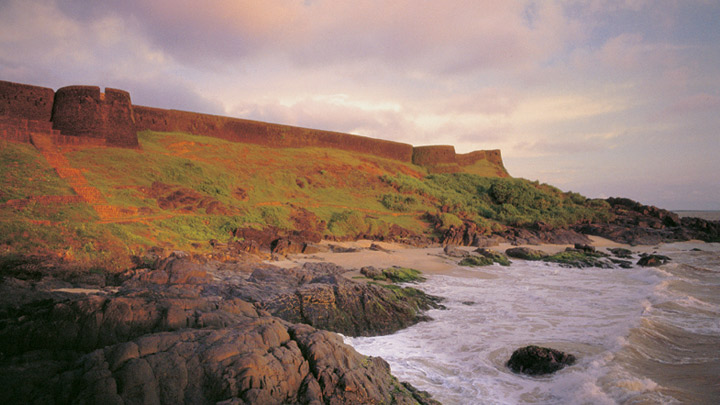 Around 16 km to the south of northernmost district in Kerala, Kasaragod, lies the massive Bekal Fort. It is among the biggest forts in Kerala and has been impeccably maintained throughout the years. It rises to 130 feet above sea level and is situated on a headland spanning 35km. Much effort has been put to develop a beautiful beach here called the Bekal Fort Beach. People flock to these spots in great numbers. Situated comfortably on steep hills by the sea, the fort provides for an imposing view from the beach. Built using laterite slabs and with a polygonal shape, it is amongst the most visited sites in Kerala.

There are many factors that have added to the popularity of the site. An observation tower fitted with beautiful peepholes, the Anjaneya Temple with its famous masonry and two Theyyam sculptures built from laterite are among the primary attractions. An ancient mosque built by Tipu Sultan and various underground passageways are also important places in the area. A rock garden was built using laterite in the parking area and is an architectural marvel in itself. Trees have been planted on the beach along with the construction of a splendid walkway which makes it easier to traverse the beach and enjoy its sights. At night, the entire place is lit up with special lights that add a whole new dimension to its beauty.

Visiting Hours: 08:00 - 18:00 hrs
Entry Fees: Adults, Rs. 15/- (Free for children up to 15 yrs)
Contact for Details: +91 467 2310700

Click here to watch the Moods of Bekal.
Getting there
Nearest railway station: Kanhangad Railway Station, about 10 km | Kasaragod Railway Station, about 15 km
Nearest airport: Mangalore International Airport, about 50 km from Kasaragod town | Kannur International Airport, about 110 km from Kasaragod town | Calicut International Airport, Kozhikode, about 200 km from Kasaragod town
Geographical Information
Distance from district headquarters: 1600 m South direction.