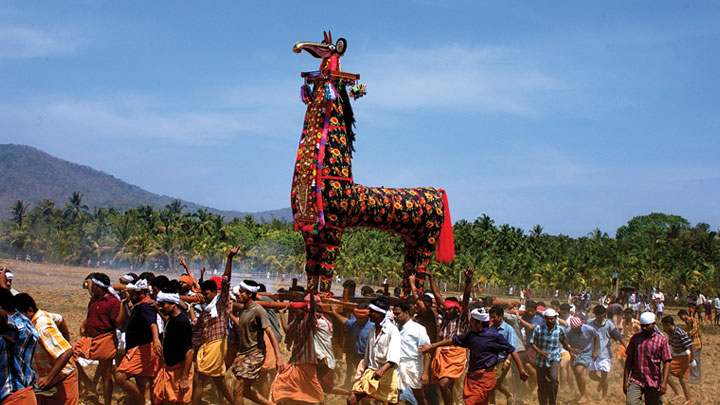 Event date: 20-02-2018
Venue: Machattu Thiruvanikavu Temple
Location: Vadakkancherry
District: Thrissur
The Machattu Mamangam is a five-day festival of pageantry and is celebrated at the Machattu Thiruvanikavu Temple dedicated to Goddess Bhagavathy. The main procession is on the concluding day where heavily adorned kuthirakolams (effigies of horses) are ceremoniously brought to the temple by devotees as offerings. This ceremony is marked by much fervour where the high spirited crowds revel in merriment and cheer the effigies on. The evenings include elephant pageants accompanied by chendamelam (traditional percussion music) being taken out to the temple courtyard. Several cultural programmes are also held during the festival days. 
Getting there
Nearest railway station:
Thrissur, about 21 km 
Nearest airport:
Cochin International Airport, about 58 km
Disclaimer
In Kerala, festival dates are decided in accordance with the Malayalam calendar and the local traditions and customs. We have calculated the festival dates based on these. But there can be changes in the dates according the customs and rituals associated with each place of worship. As such, these should be considered only as approximate dates and have to be confirmed with the local authorities.