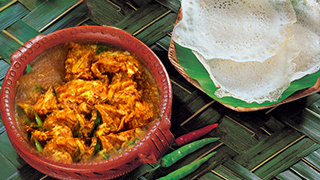 Appam is an undisputable staple of Kerala's breakfast spread. Its versatility and fluffy texture makes it the perfect accompaniment to all kinds of savoury dishes. A seafood lover's paradise, Kerala boasts of a plethora of dishes. The piquantcrab masala blend perfectly with the mild, sweet undertones of Appam to create a symphony of flavours in your mouth. We bring you the recipes to prepare this delicious combination at home.

Ingredients
Rice flour - 1 kg
Yeast - 5 gm.
Coconut milk - 1/2 litre
Sugar - to taste
Salt - to taste
Water - according to consistency
Kappi - 100g    

Method of preparation
Mix together rice, water, yeast and "kappi". It should be in thick consistency. Let the above mixture ferment for one night (6 hour). Add the Sugar, Salt & Coconut milk to the fermented mixture and make a pouring consistency. The appam can be made in traditional Appachatti. To make the "kappi", mix little rice flour and hot water. Allow to cook for some time in thick consistency.

Njandu (Crab) Masala
Ingredients
Crab diced - 1/2 kg
Onion - 200 g
Ginger - 25 g
Green Chilli - 4 no
Garlic - 25g
Curry Leaves - little
Tomato - 100g
Coconut milk  2 no (11/2 glass)
Garam masala - little
Turmeric Powder - 1tsp
Coriander powder - 25g
Chilli powder - 30g
Salt - To taste
Coconut oil - 100g

Method of preparation
Heat oil in a pan. Sauté together sliced onion, garlic, ginger, curry leaves, green chilli till get browned. Add all spice powder and little chopped tomatoes. Add the diced crab to the masala and cook it with some water. Finally finish with coconut milk and diced tomatoes can be added to make it attractive.

Courtesy: Yuvarani Residency, MG Road, Ernakulam.