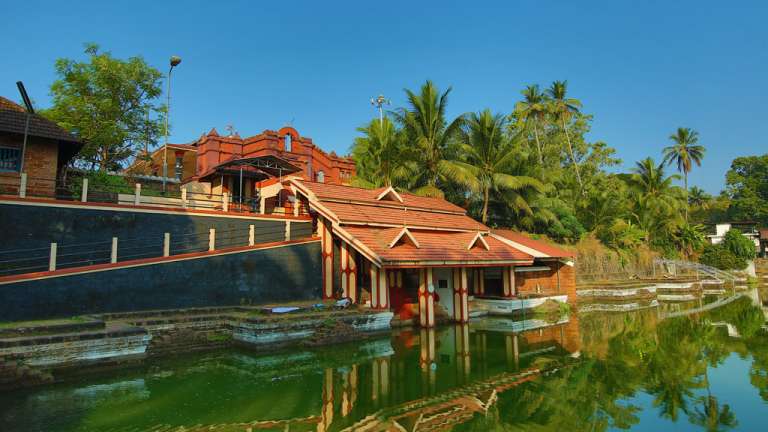 Thiruvangad Sree Ramaswamy Temple pond
Dedicated to Lord Rama, an incarnation of Vishnu, Thiruvangad Sree Ramaswamy temple is also known as Brass Pagoda, owing to the brass sheeting on roofs instead of the customary clay tiles. The temple is a beautiful architectural monument with ancient sculptures and mural paintings, which reveal different epic stories.
Legend has it that Agasthya Muni on his way to Kaveri river was confronted by two hunters, namely Neela and Swetha. The Muni cursed them, but on feeling repentant, he advised them to do penance. They obeyed his words and did penance at Thiruvan kattu [sacred forest], which later became Thiruvangad. This place was also called as Swetaranyam, which translates to "white forest".
This temple is more than 2000 years old and is associated with several historical tales and legends. Tipu Sultan's forces, in the course of their invasion of Malabar during the mid-18th century, damaged some of its parts. The temple is situated at Thiruvangad, Thalassery, 24 kms from Kannur town.
Temple Timings:  05.30 am to 12.00 pm
                              05.00 pm to 08.00 pm