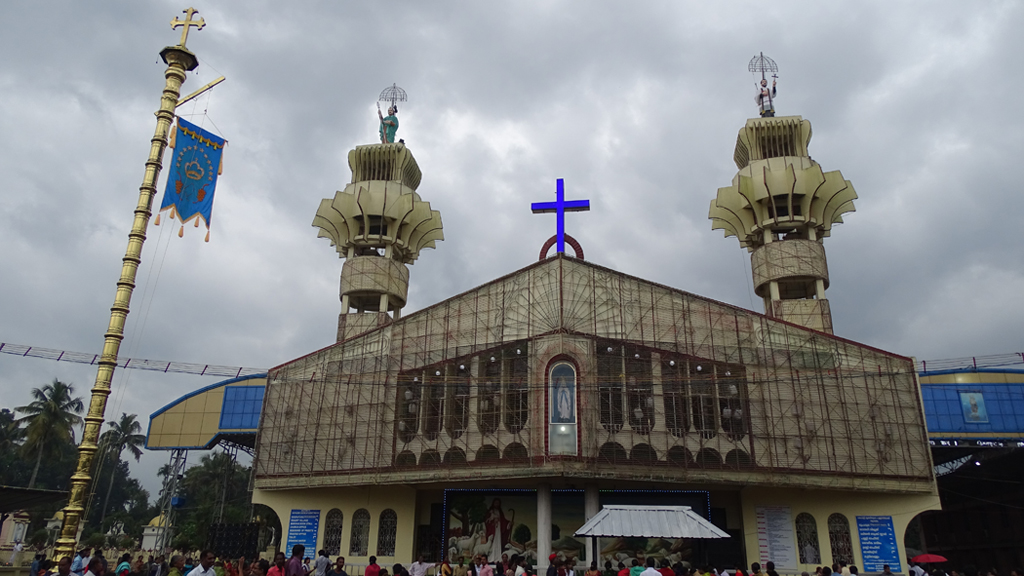 This church, which participated in the Trent Council, is believed to have been established in 1381. This famous Marian pilgrim centre of central Kerala, located on the left bank of Chalakkudy River, is known as the church of Koratty Muthy. There is a story behind the inception of the church. Kavalakattu Joseph, who was the commander of Koratty Kaimal, was murdered and while his body was being taken for cremation to Ambazhakkadu diocese, it was diverted to Koratty and buried there by the intervention of Kodassery Karathav, who was an enemy of the Koratty Swaroopam. Later a church was constructed there in the name of Holy Mary. The old stone cross in front of the church has unique carvings.  The light post on the western side bears the inscription, "Pakkattil swaroopam." A wall too has an inscription, "Pakkatil Swaroopam Vaka" which means ''Owned by Pakkatil Swaroopam.''

The Koratty Swaroopam had certain rights in the rituals of the church as it gave land exempted from tax to construct the church. Stories are there about the presiding deity of Koratty, an agrarian village, becoming Koratty Muthy and also about adding the image of a plantain fruit to the statue of the Mother. Plantain fruit of the Poovan variety, offerings of equal weight as the weight of the devotee, termed 'thulabharam', assuring one's, often of a baby's, lifelong submission to the deity, and crawling on the knees, are some of the main offerings at the church, all of which are probably is the result of the old ties with the Koratty Swaroopam. Yet another offering is Thamukku, which is plantain mashed in a fried mixture of rice powder and coconut. Long distance travelers used to take home this delicacy till recently.  The festival season of the Catholics which starts with the Feast of Koratty Muthy, which falls during the heavy rains of October, concludes with the Feast of St. Thomas at Malayattoor on the Sunday after the 50-day lent. 

The market located in the premises of the church, was a trade centre of the olden times. The agriculture marketing fair held in connection with the Feast is very famous.  People used to purchase all kinds of agricultural gadgets, as well as the vessels needed for homes from this fair. Koratty Muthy is also known as the Mother of Seeds, a presiding deity who ensures perpetual productivity and prosperity.