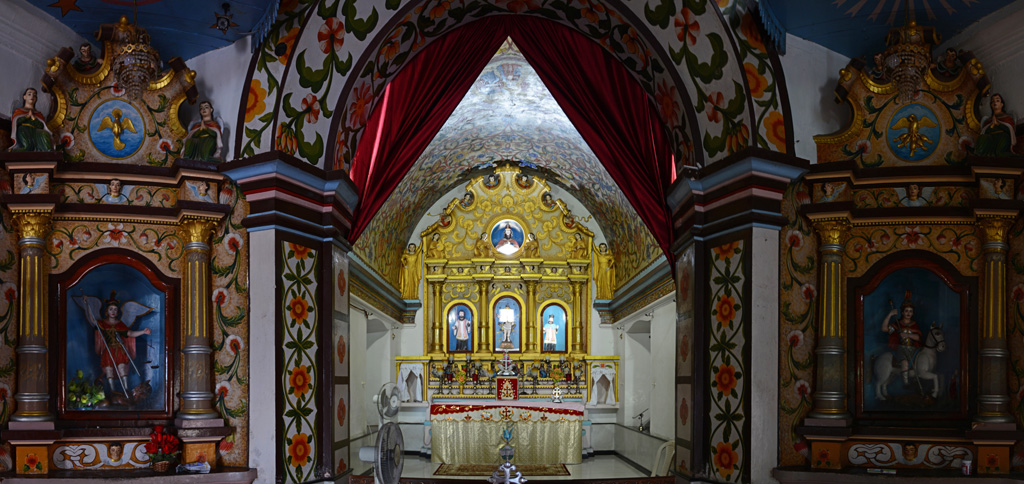 It was the forest area Kuravan Kadu that later became Kuravilangad in Kottayam. Kuravilangad is the birth place of 5 Archdeacons of Syrian Christian history.  This native place of Palliveetil Chandy Methran and Nidheerikkal Mani Kathanar carries many evidences of age.  Christians migrated in large numbers from here to Thodupuzha, Thekkumbhagom, Muthalakkodam, Mylakombu and Velliyamattom. The church which was constructed in C.E. 345 is believed to have been consecrated by the Metropolitan Mar Joseph who reached Kerala with Knai Thoma. It was renovated many times and it acquired the present form in 1954. The renovated church has the altar and the rathal of the old church, which makes it a unique blend of the traditional and the modern.

A stone cross, a stone statue of Virgin Mary, and a model of a ship found there, are in the list of rare archeological pieces. The stone statue of Virgin Mary holding the holy child is kept in a framework meant to keep a statue, in the centre of the Southern sankeerthi.  This painted statue does not look like a stone statue. It resembles the one in Southee Church of Kochi, and hence it is believed that both statues reached here together by ship. The statues of St. Augustine and St. Thomas are also in the same place. The stone cross is the biggest in Kerala. It is 39 feet tall with seven round steps around the bottom and a twenty foot long pillar.

The church has a chirava, the traditional gadget for grating cocoanut, carved out of a single block of wood, and opening out to eight branches. The ship, made of wood, depicts the scene of the fish spitting out Jonah the prophet. The model of the ship is believed to have been donated by the sailors of Kadappoor, which was once a harbor.

There are also bells made of bell metal brought from Germany, which can claim to be the oldest and biggest among those found in Asia. One of them has an inscription which translates to 'Mother of God.'

Murals depicting the Baptism of Christ, and Moses receiving the Ten Commandments from God, can be seen on either sides of the madbaha or sanctum. In the mural depicting Baptism, Christ and John the Baptist seem very natural.

The Martha Mariam church is a famous Marian pilgrim centre in the Central Kerala. The three- day lent and the accompanying festival in the church are very famous. The authorities of the Ettumanur Mahadeva Temple are said to have donated a paddy field for preparing the special dish of rice cooked in milk, a lamp hung from a chain, and a big brass cooking vessel.  It is said that it is since then that the festival started with the escort of elephants (Devassy, M.K., Keraleeya Christava Devalayangalile Silpa-Chitra Kalakal). Three caparisoned elephants walk in front of the procession.  There is also the custom of presenting a model of Jonah, the Prophet, and the ship in which he travelled.