Ponnani
---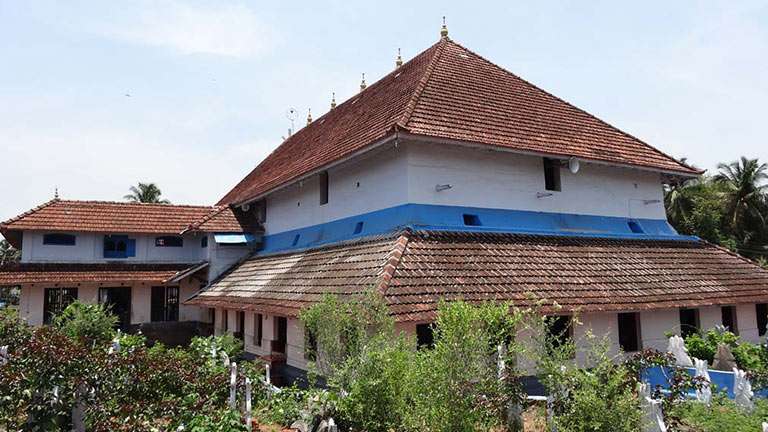 Ponnani is where Kerala's second longest river, the Bharathapuzha, finally comes to the end of its long, winding journey through Malabar to join the Arabian Sea. The place has long been considered as a prominent scenic coastal town as it is bordered by an estuary on the northern side, backwaters in the south and the Arabian Sea on the west.  
Apart from being a favourite location for Arab traders 2000 years ago, the place was also a chosen destination for many Muslim spiritual leaders who were instrumental in introducing Islam here.  It is said that Arab traders were even responsible for naming the place as they exchanged gold coins for the goods at the port here (the Malayalam word for gold coins being pon naanayam). Ponnani is also one of the major fishing centers in the district. During the months of February/March, thousands of migratory birds flock to this region. 
The Islamic influence dates back to the ancient times when Ponnani started trade with Arabs. It is believed that Malik Ibn Dinar, the first Islamic missionary to Kerala, visited Ponnani. The Ponnani Juma Masjid was built here in the 15th century by Zainuddin Ibn Bin Ahmed, the descendant of an Arab theologian who landed on these shores. The major festival (nercha) of the mosque falls in the month of March/April and lasts four days. The influence of Islam and the Arab traders paved the way for a new calligraphic form of Arabic known as the Ponnani script, (also referred as Arabi Malayalam), which is used even today by certain families in the area. 
The Thrikkavu temple is situated very close to the Juma Masjid. It is said that they were built by a Hindu-Muslim duo who survived a storm at sea. They prayed that they would build a mosque and a temple side by side if they managed to reach land safely.
Biyyam Kayal near Ponnani is a popular lake destination for travellers interested in watersports. Boat race is conducted here annually during Onam celebrations. 
The pristine Padinjarekkara Beach, where the Bharathapuzha River joins the Arabian Sea, offers excellent boating facilities to visitors.