Ananthapura Lake Temple
---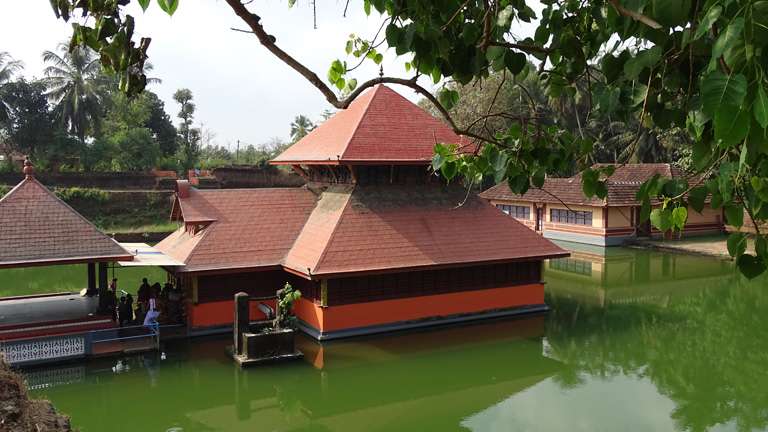 The Ananthapura Lake Temple is located in the middle of a lake in the village of Ananthapura, about 14 kms from Kasaragod town. To reach the temple, one has to take the bridge near the Kumbla-Badiyadka road. It is the only such temple in the whole of Kerala. The temple is known as the moolasthanam, the original abode, of the Lord Padmanabha of Sree Padmanabhaswamy Temple of Thiruvananthapuram. Watch the video of Ananthapura Lake Temple. 

The temple, dedicated to Lord Padmanabha who is seated on the serpent king, Anantha and on both sides of Bhoodevi, the Goddess of Earth and Sreedevi, the Goddess of Prosperity are seated. Garuda and Hanuman stand in front of them praying with folded hands. The temple is believed to have been built in the 9th century. Since then, the temple has been renovated many times. Apart from the beautiful place, it is located in, the temple is also known for its mural paintings. 

On the north-eastern corner of the lake is a large cave with a small pit that holds water. It is said that water in the pit never goes dry.
Temple timings
05.30 AM - 12.30 PM & 05.30 PM - 07.30 PM every day
Contact details 
Sri Ananthapadmanabha Swamy Temple,
Ananthapura, P.O. Kannur,
Via Kumbla,
Kasaragod - 671321
Phone:+91 4998 214360
Email: info@ananthapuratemple.com
Website: www.ananthapuratemple.com