Madhur Temple
---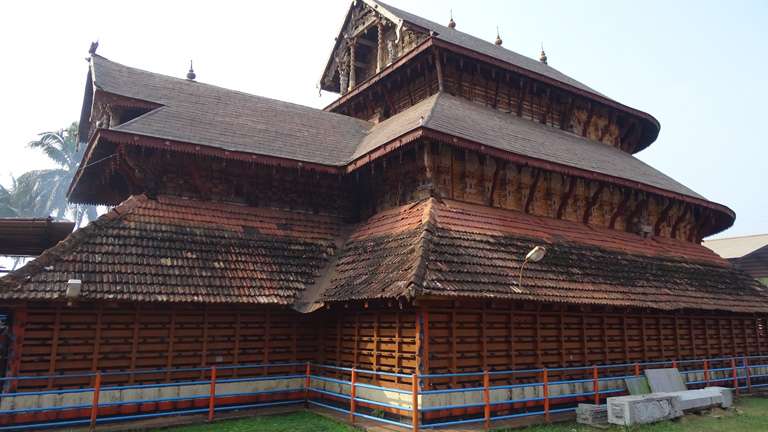 Madhur temple is located on the banks of River Madhuvahini at a distance of about eight kilometres from Kasaragod town. Though the name Madhur Ananteshwara Vinayaka temple suggests that the deity is Lord Ganapathy, the temple is actually dedicated to Anantheswara, a manifestation of Lord Shiva.  

History and architecture
The temple was built by the Mypadi rulers of Kumbla in the 10th century and was renovated later to its present form in the 15th century. The imposing temple attracts not only devotees but also connoisseurs of architecture who find its blend of Hindu and Jain architectural styles fascinating.  
The temple has a three-tiered dome of which the top two storeys have copper plate roofing and the lower one has tile-roofing. The intricately carved wooden pillars and beams inside the temple compound speak volumes for the artistry of the craftsmen of a bygone era. The walls and roofs of the temple are decorated with stucco images depicting scenes from Indian mythology. The Namaskara Mandapam (the pavilion in front of the sanctum) is adorned with wood carvings depicting scenes from the Ramayana. There is a deep well inside the temple compound. The water, which remains untouched by the rays of the sun, is believed to have many curative properties. 
The temple has a history associated with many rulers, especially the Kumbla ruler, Jai Simha I. There is also a story associated with Tipu Sultan. While on his conquering spree, Tipu approached this temple with the intention of destroying it. Feeling thirsty, he had some water from the well inside the temple.  It is said that after relaxing for a while, Tipu changed his mind and left the temple untouched, except for a mark made with his dagger. The mark of Tipu's dagger can still be seen here. 

Moodappa Seva is a special pooja conducted here and is a ritual in which a large idol of Ganapathi is covered with Appam (an offering made out of the mixture of rice and ghee). This ritual festival is conducted only occasionally. The last one was held in 1992.
The major festival celebrated here are the Ganesh Chaturthi and annual festival called Madhur Bedi. Madhur Bedi is a colourful five-day event and on the fourth day, the utsava moorthi (Thidampu) is taken out in a procession.